NEWS AND BLOG POSTS
Object of the Week: the Chatsky Manuscript
Graham Foster

7th March 2017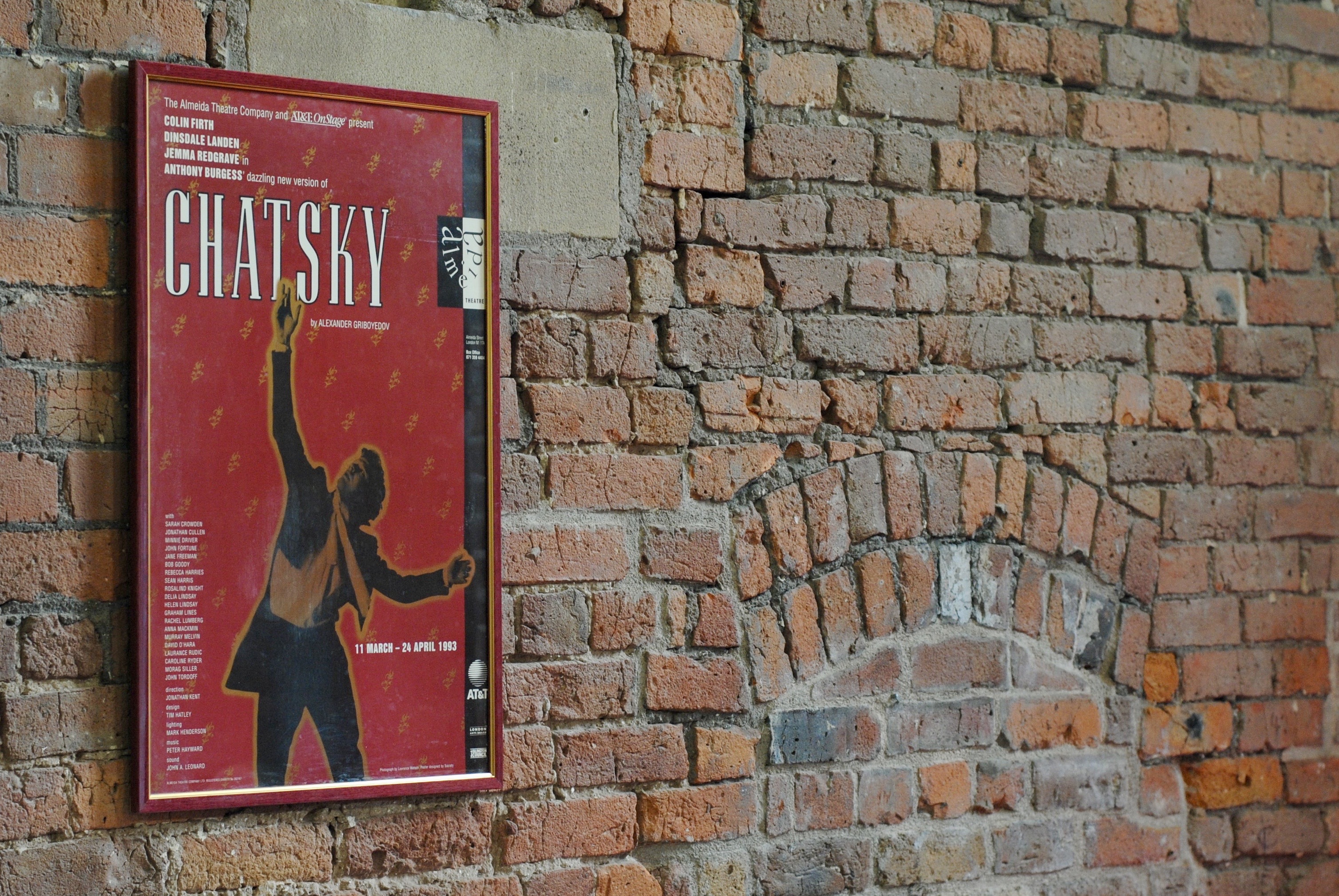 Chatsky, or The Importance of Being Stupid is Burgess's translation of Alexander Sergeyevich Griboyedov's play Gore ot Uma (Woe Out of Wit), and is one of the last pieces of work he undertook. Burgess completed the translation around Easter 1991, but would have to wait until 11 March 1993 for it to be performed at the Almeida Theatre in London.
Burgess's relationship with the literature, culture and language of Russia is most evident in his novels A Clockwork Orange (1962) and Honey for the Bears (1964), the latter of which inspired by his 1961 holiday in Leningrad. He began learning the language before this trip, and became proficient as he was putting the finishing touches to his Nadsat narration. Chatsky shows that his interest in the literature of Russia, and his linguistic ability, remained strong until the end of his life.
Burgess's translation of Chatsky was not the first, that honour going to Joshua Cooper who translated it into free verse rather than the rhyming verse of Burgess (and the original).  Cooper's version is, according to Burgess, 'unactable'.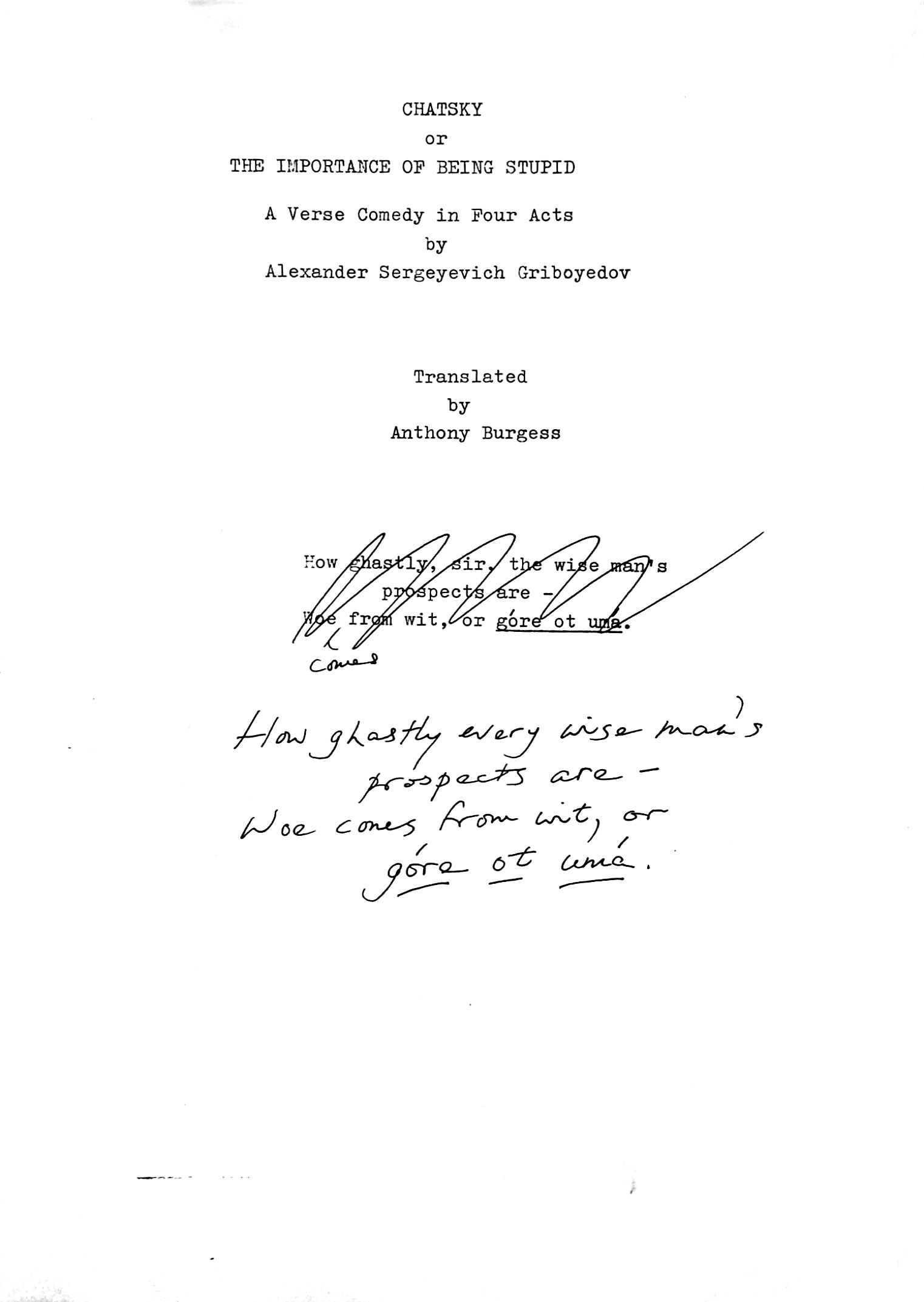 Griboyedov wrote Woe Out of Wit while undertaking diplomatic work in the Caucasus and Persia (now Iran). It was completed in 1824 but was initially banned. It was not published in full until 1861. The play, a satire of Moscow society, sees Alexandr Andreyevich Chatsky fall in love with Sophie, daughter of his patron Pavel Famusov. Famusov wants to marry his daughter off to a member of Moscow's elite, but Chatsky values education and knowledge. He travels the world, educating himself beyond the limitations of Moscow, but on his return his intellectualism leads him to be declared insane by the philistine society. The role of Chatsky is, in Russian culture, the benchmark for an actor, in much the same way as Hamlet is in Britain.
Burgess describes the play as a 'comedy of considerable bitterness', and it is easy to see why he wanted to translate it. Like Burgess, Griboyedov was something of an outsider in his home country, and spend many years living abroad, and the play's theme of intellectual rebellion against a philistine society also comes up in Burgess's writing.
Chatsky's run at the Almeida in 1993 starred Colin Firth as Chatsky, Jemma Redgrave as Sophie, Dinsdale Landen as Famusov, Jonathan Cullen as Molchalin, and Minnie Driver (in her first London stage role) as Liza. It was directed by Jonathan Kent, who was joint Artistic Director (with Ian McDiarmid) of the Almeida between 1990 and 2002. Kent described Burgess as 'one of the best things to happen to our theatre because the ability of language to inspire is what the Almeida is all about'. Despite being very ill, Burgess was able to attend the opening night and meet the cast.
The full script of Burgess's Chatsky has never been published, but the Burgess Foundation has plans to publish the complete version as part of our ongoing reappraisal of Burgess's lesser-known works.