NEWS AND BLOG POSTS
Object of the Week: An Illustration by Fulvio Testa
Graham Foster

5th September 2017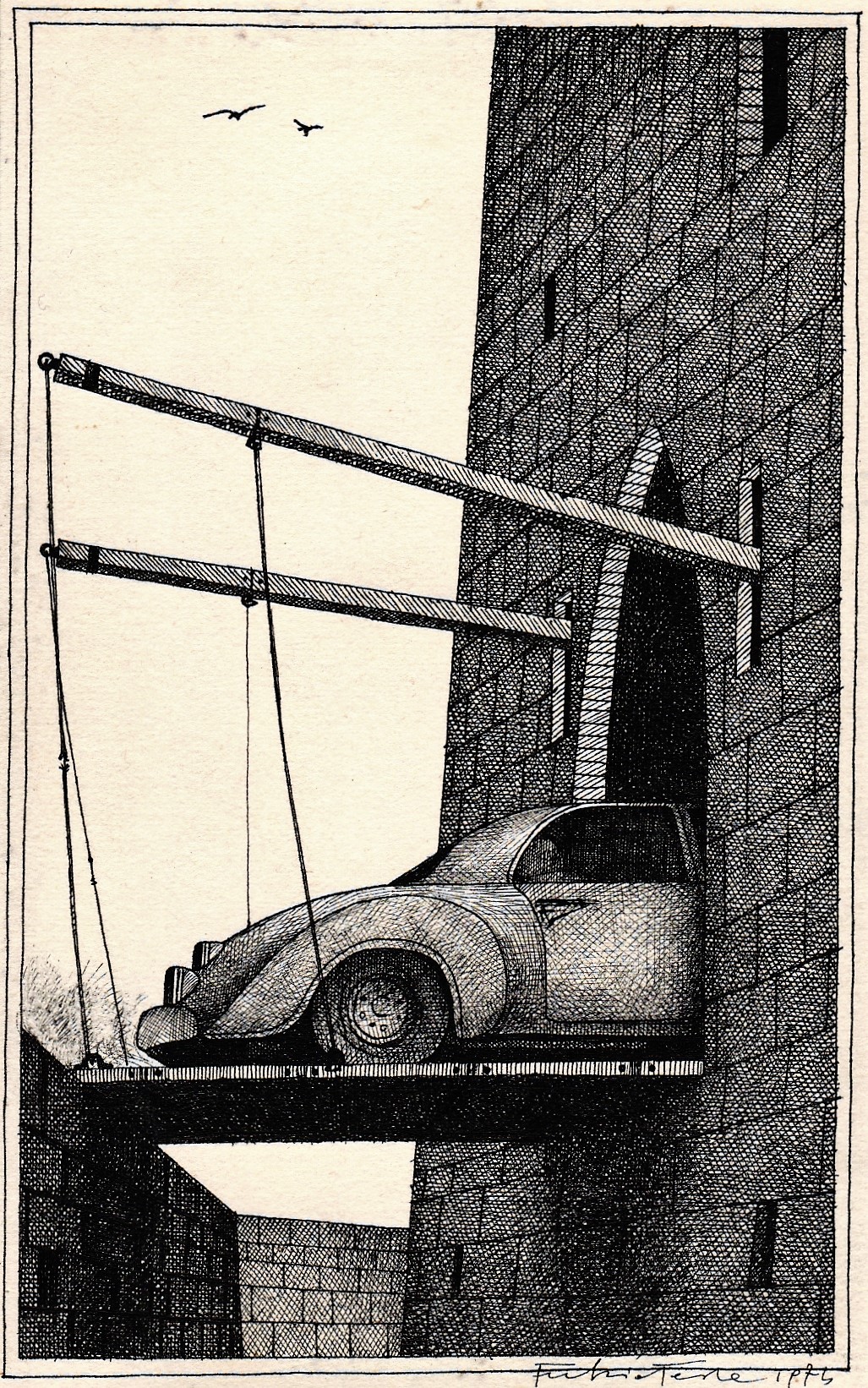 Anthony Burgess often worked with visual artists, most notably with novels The Eve of St Venus (1964) and A Vision of Battlements (1965), both of which were illustrated by Edward Pagram. Other works, such as Beard's Roman Women (1976) and Shakespeare (1970) were illustrated with photographs and, in the case of his biography of Shakespeare, reproductions of woodcuts and paintings. Burgess also worked with the artist Joe Tilson to create Will & Testament, a limited-edition art book about Shakespeare, in 1977.
The only other time Burgess worked directly with an illustrator was on his two children's book, A Long Trip to Teatime (1976) and The Land Where the Ice Cream Grows (1979).
The archive at the International Anthony Burgess Foundation contains many items relating to this creative partnership, including an original illustration (top picture), working proofs of the children's books, and a small-press publication that Burgess and Testa produced for Christmas in 1977.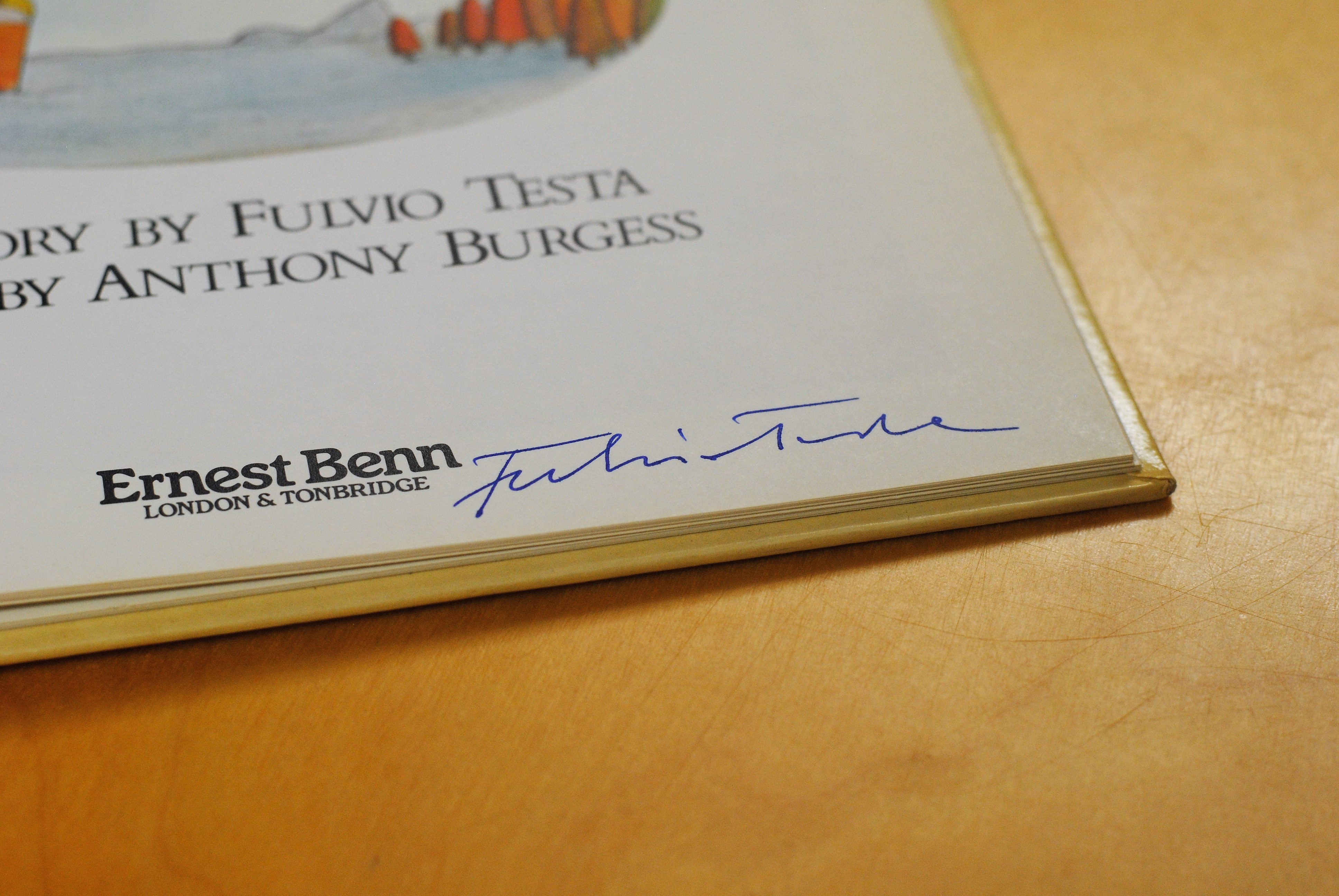 Burgess's children's books were originally written for his son, Paolo Andrea (later known as Andrew). A Long Trip to Tea Time tells the story of Edgar, a young boy who is bored in his history class. He falls down a hole in his desk and embarks on a fantasy adventure that takes in Easter Island, kings and castles, and features poetry, song lyrics, and original music.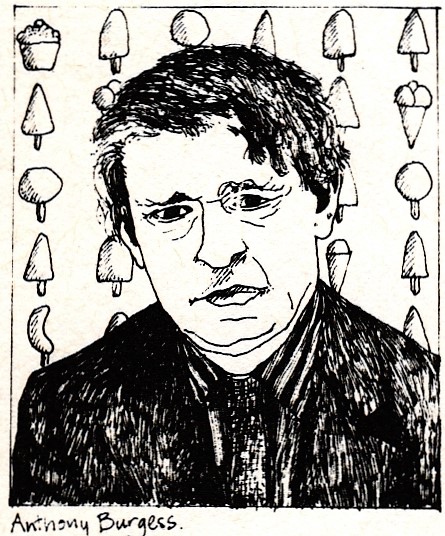 The Land Where the Ice Cream Grows is a similar fantasy adventure, this time an arctic expedition by airship to a mysterious land made of ice cream. The explorers encounter pistachio mountains, vanilla icecreambergs and a monster who lives off ice cream alone. This book is notable because Burgess adapted an original story by Testa. In the Burgess Foundation archive there is a proof copy of the book, with photocopied illustrations by Testa and typewritten inserts by Burgess. It shows that the original title of the book was Ice Cream World.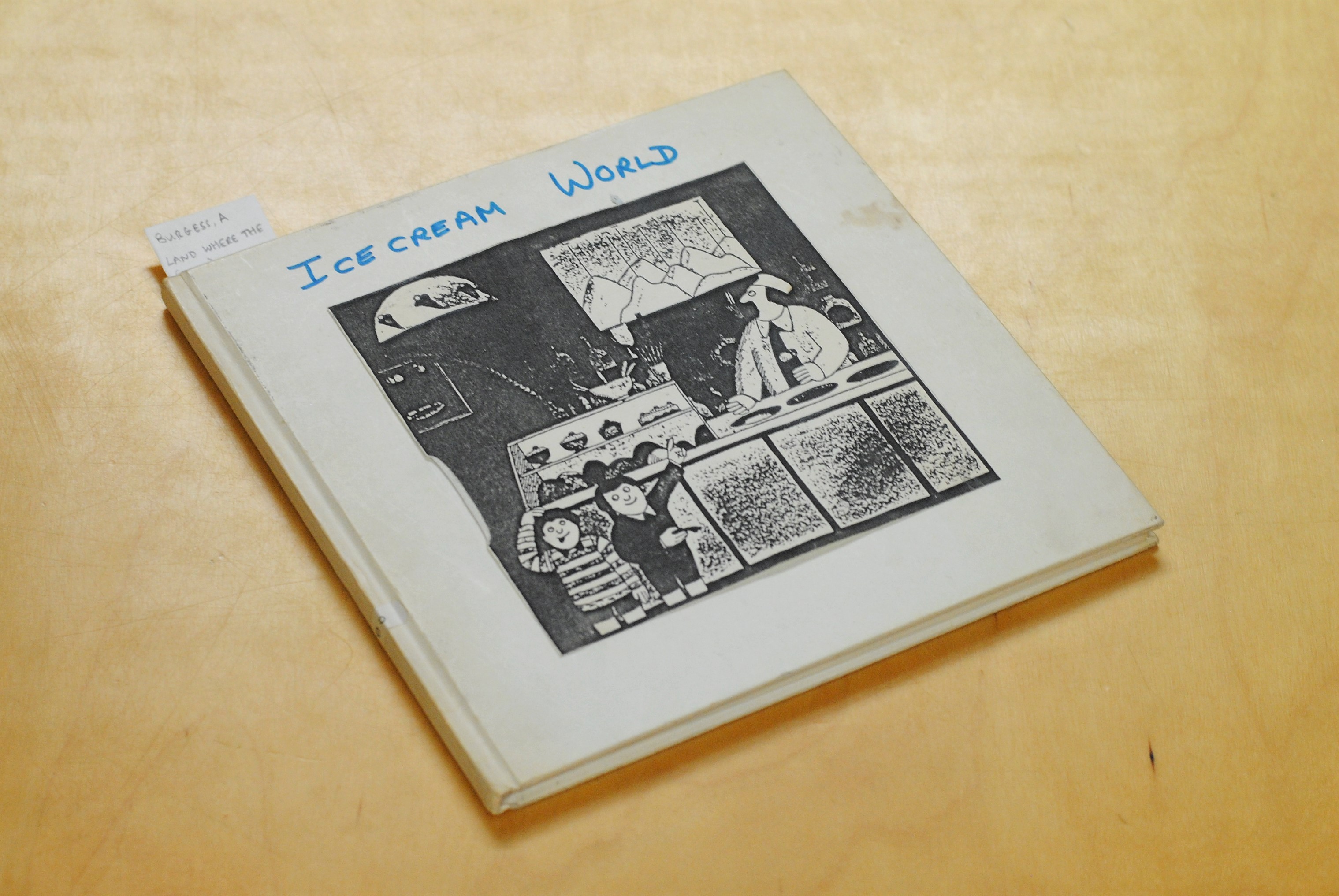 Burgess first met Testa in Montalbuccio, where he was staying in a house belonging to Bruno Miconi, the owner of the flat Burgess occupied in Piazza Santa Cecilia in Rome. This meeting took place in 1975, when Burgess was working on Beard's Roman Women, and about to leave Italy to take up residence in Monaco. Testa was then, at 35, an up-and-coming illustrator with only one published book: The Nightingale by E.J. Pelgrave (1974). After working with Burgess, Testa became one of the most renowned illustrators in Italy and has published many books for children including versions of Pinocchio and Aesop's Fables.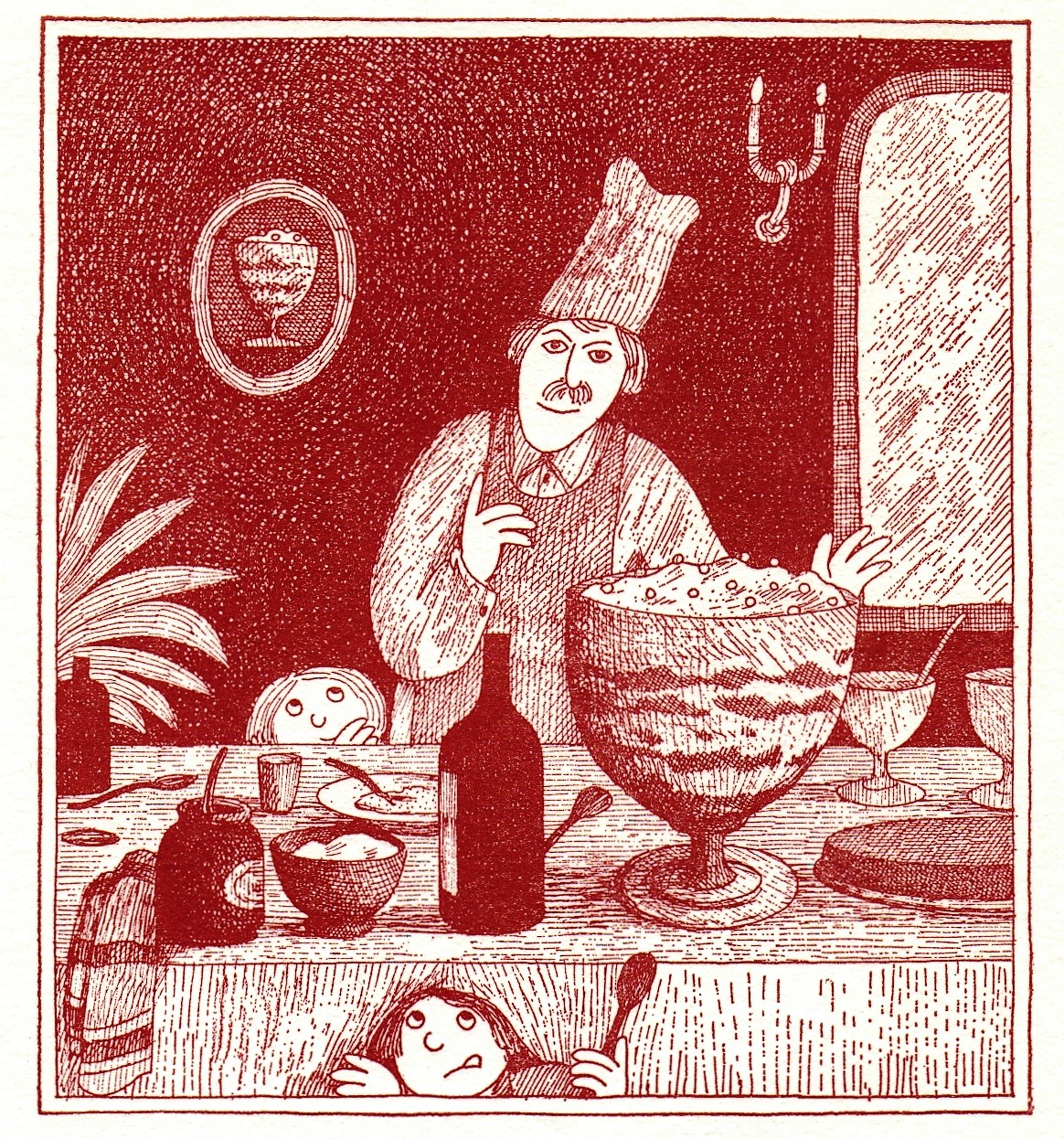 Burgess and Testa worked together on a celebratory Christmas booklet in 1977. A Christmas Recipe, published by the Plain Wrapper Press, is a short poem by Burgess and a single illustration by Testa (above). The poem is a humorous recipe for a Christmas trifle and contains directions such as: use a bowl 'Big as a priest's paunch or drunkard's soul'; a bottle of sweet wine 'liberally inclined'; 'Seethe up a custard, thick'; and, finally, 'A two-hour wait must stifle / Your lust to eat this nothing, this mere TRIFLE'.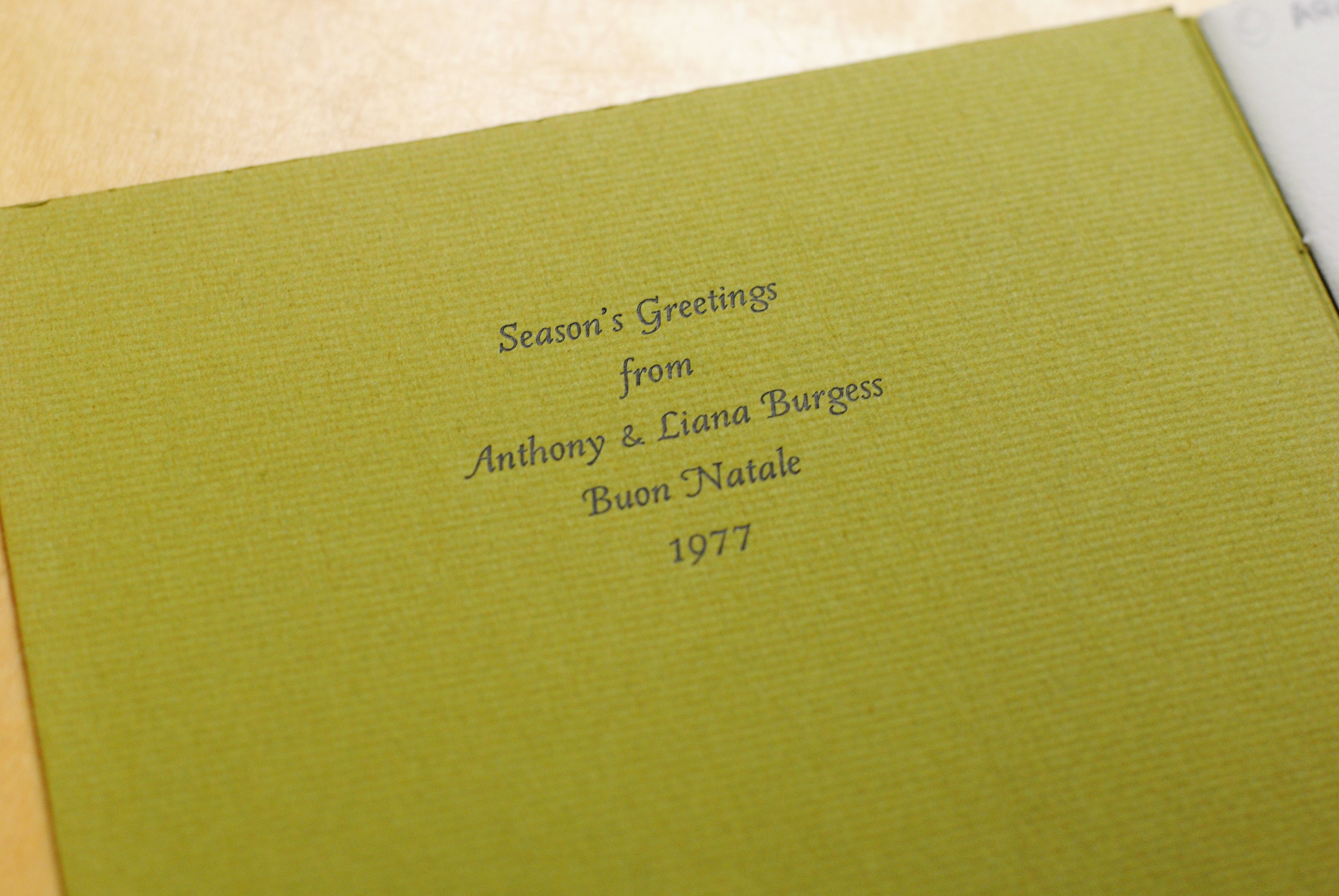 The publisher, Gabriel Rummonds, claims in his memoirs that Burgess wrote this poem in a single afternoon visit to Verona. It shows Burgess's love of language, his sense of humour and his strong opinions about the preparation of food. The print run was a mere 180 copies, and it was written as a small Christmas gift for Burgess's friends and acquaintances, and contains the inscription: 'Season's Greetings from Anthony and Liana Burgess, Buon Natale 1977'.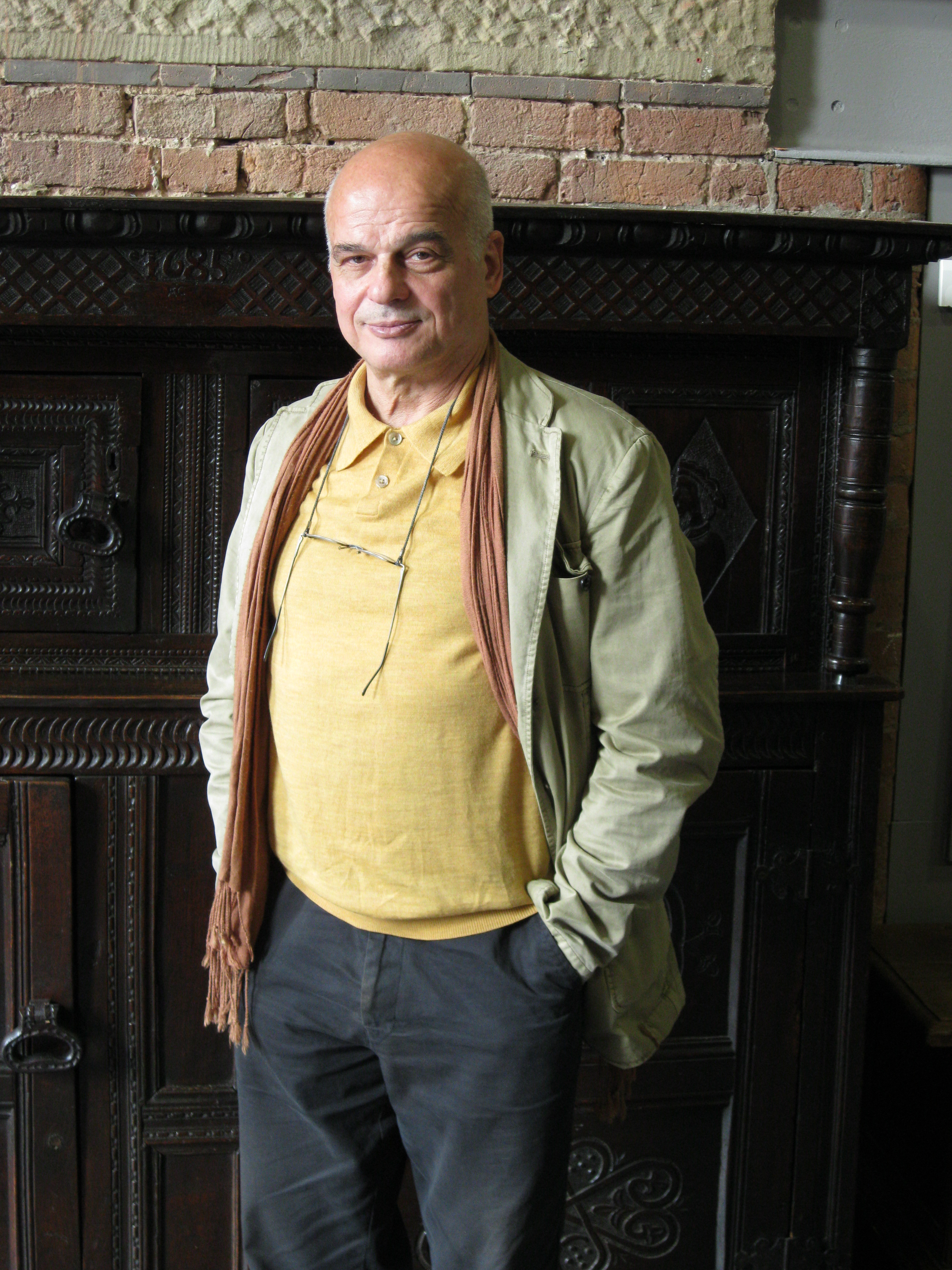 Burgess's collaborations with Testa were hard to find until very recently. The books for children were out of print for some years, and A Christmas Recipe was never commercially available. However, one of the new publications for Burgess's centenary year in 2017 is A Long Trip to Teatime, published by Dover Publications and including the original illustrations by Testa.
For more information on Dover's A Long Trip to Teatime, click here.