The Burgess Prize
The Observer/Anthony Burgess Prize for Arts Journalism
in this section
Winners 2019: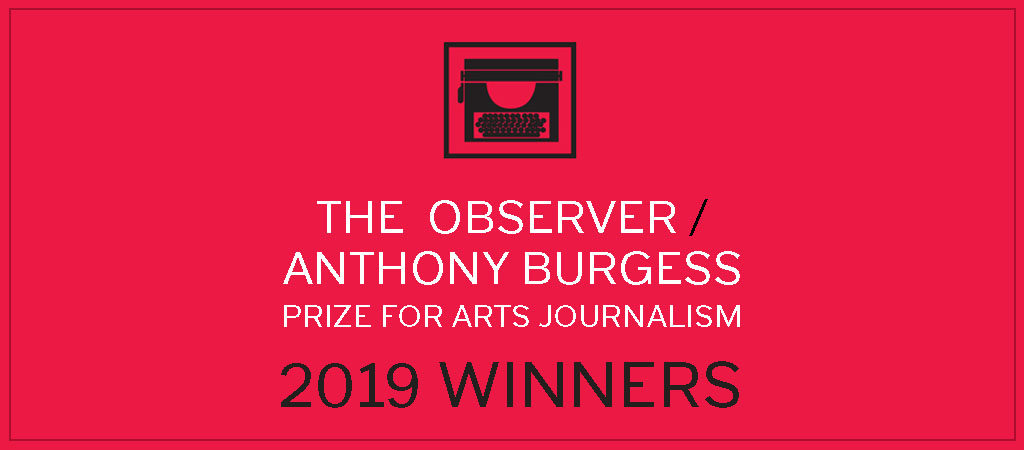 Our annual prizes for arts journalism have been announced!
The winner of the £3000 prize was Jason Watkins, for his review of Pigspurt's Daughter at the Holbeck Underground Ballroom in Leeds, which is a one-woman performance piece by Daisy Campbell about her late father, the celebrated provocateur and playwright Ken Campbell. Jason's vivid writing brings to life a boisterous, absurdist show, and his confident, lively, casually erudite style is in the very best tradition of Anthony Burgess's own work for the Observer.
Runners up and winners of £500 each were Tara McEvoy, for her excellent, thoughtful piece on Terrance Hayes's collection of poetry, American Sonnets for My Past and Future Assassin; and Kate Wyver for her fascinating take on Dan Hett's video game and meditation on grief Sorry to bother you.
Presented on 20 February 2019 by Paul Webster, the editor of the Observer, the prizes reward the very best new writing about the arts. We received more entries than ever before, and on a hugely diverse range of subjects. We saw a welcome increase in the number of very strong book reviews, which took their place alongside excellent writing about theatre, film, television, classical music, popular music and much more. Our shortlist also had pieces on contemporary poetry, textiles, Yugoslav architecture, Scottish pop music, minimalist drawings and an anthology of tweets.
We'd like to congratulate each of the shortlisted writers, none of whose articles would have been be out of place in the Observer.
Look out for the winners in the Observer New Review on Sunday 3 March, and for all of the shortlisted pieces on the Observer website.
The shortlisted reviews were:
Peter Chappell: Anni Albers at Tate Modern, London
Micha Frazer-Carroll: thank u, next by Ariana Grande
George Grylls: Architecture in Yugoslavia 1948-1980 at MoMA, New York
Amber Murray: Rip it Up at the National Museum of Scotland, Edinburgh
Yohann Koshy:  Dril Official 'Mr. Ten Years' Anniversary Collection by Dril
Tara McEvoy: American Sonnets for my Past and Future Assassin by Terrance Hayes
Michael Perrett: Waqas Khan at Manchester Art Gallery, Manchester
Jason Watkins: Pigspurt's Daughter at Holbeck Underground Ballroom, Leeds
Kate Wyver: Sorry to bother you by Dan Hett
Pictured below, clockwise from top left: The Guardian / Observer offices in London, wall graphic at the ceremony, Anthony Burgess reading a newspaper (not present at ceremony), Paul Webster presenting the prizes