NEWS AND BLOG POSTS
The Irwell Edition: Puma
Graham Foster

12th September 2018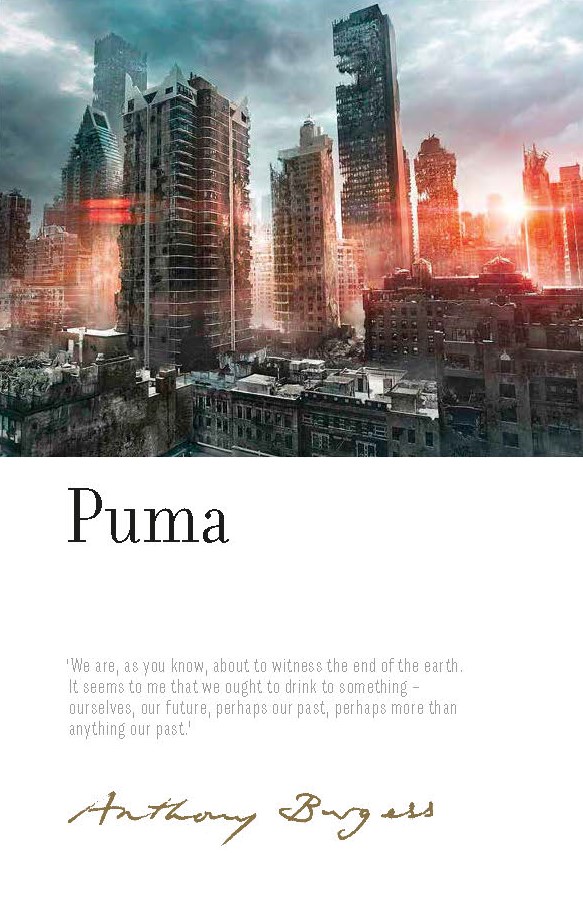 The third volume of the Irwell Edition of the Works of Anthony Burgess is his 'lost' science fiction novel. Puma, written by Burgess in 1976, but only published as part of his 1982 novel The End of the World News, is an apocalyptic story about a stray planet on a collision-course with Earth.
This is the novel as Burgess originally intended it. In the archives at the Burgess Foundation is Burgess's original plan for a uniform, collected edition of his novels. This list, in Burgess's handwriting and dating from the late-1970s, includes Puma alongside more familiar titles. With this inspiration, the Irwell Edition restores Puma to the Burgess canon, and makes it available as Burgess originally intended for the first time.
Disentangled from the multiple narrative strands of The End of the World News, and restored to the text of the original 1976 typescript, Puma shows Burgess playing with the tropes of science fiction to create a world which is distinctly Burgessian.
Set in the near future, the story details the crushing of the planet Earth by a heavyweight intruder from a distant galaxy – the dreaded rogue planet Puma. It is a visceral book about the end of history as humankind has known it. Despite its apocalyptic themes, its earthquakes and tidal waves, its murder and madness, Puma is a gloriously comic novel, steeped in the rich literary heritage of a world soon to be extinguished. It celebrates humanity in all its squalid glory, drawing on the bawdy writing of Shakespeare and Rabelais.
In Burgess's hands this meditation on destruction, mitigated by the hope of salvation for a select few, becomes a powerful exploration of friendship, violence, literature and science at the end of the world.
The novel is accompanied by a new introduction by editor Dr Paul Wake, which examines Burgess's preoccupation with literary science fiction and the contexts of the novel. The text has been fully annotated, and the volume includes a rare piece of Burgess's writing about New York City, his introduction to a collection of J.G. Ballard's short stories, and other pieces about science fiction and apocalyptic writing.
The Irwell Edition of the Works of Anthony Burgess is published by Manchester University Press and aims to bring all of Burgess's novels and non-fiction books back into print in critical editions. Each volume includes an editor's introduction, a newly edited text, extensive notes and annotations, plus previously unpublished materials from the Burgess archives in Europe and North America.
Previous volumes in the Irwell Edition include A Vision of Battlements (edited by Andrew Biswell) and The Pianoplayers (edited by Will Carr).
Click here to visit the Manchester University Press website for more details and to order your own copies.