The Foundation
The Music of Anthony Burgess: Shakespeare Songs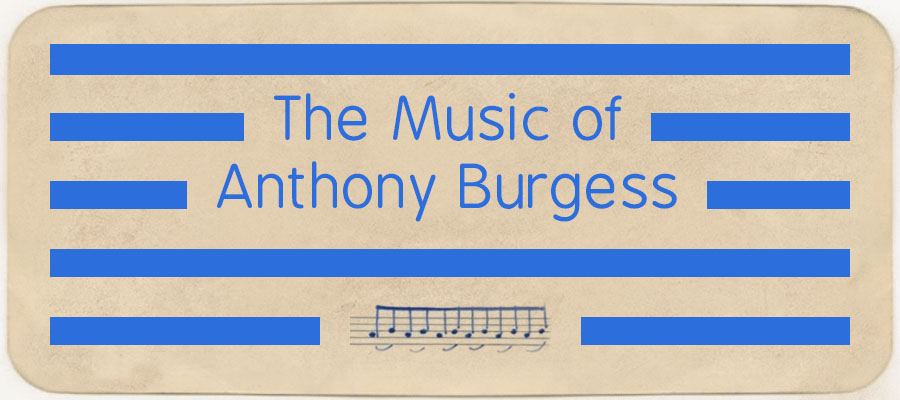 Explore Anthony Burgess's settings of verses by Shakespeare below.
---

Listen to 'Under the Greenwood Tree' by Anthony Burgess, performed at the Burgess Foundation in 2011.
---

Listen to 'Apemantus' Grace' by Anthony Burgess, performed at the Burgess Foundation in 2011.
---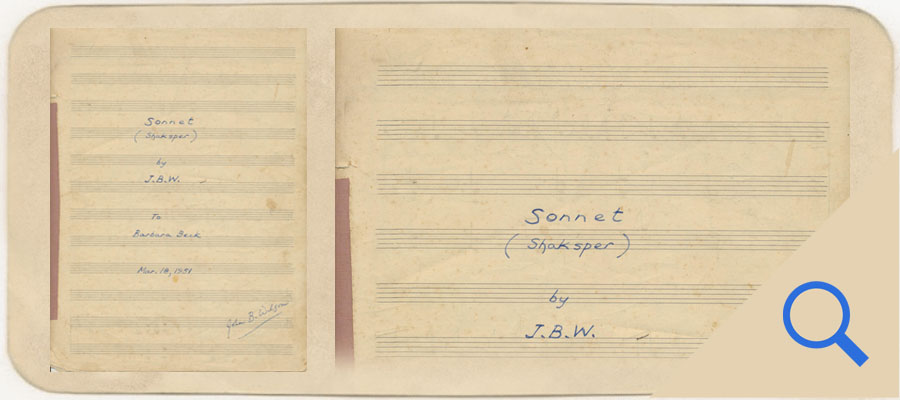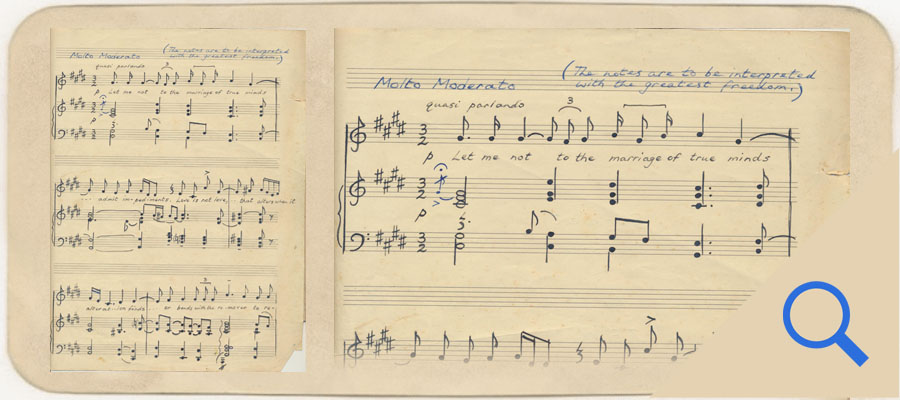 The first two pages of Burgess's manuscript score setting Shakespeare's Sonnet 116, 'Let me not to the marriage of true minds admit impediments'.
---

Listen to Burgess reading Shakespeare's Sonnet 116 for the Book Society in a recording from 1964.
---

Burgess's 1951 setting of Sonnet 116 by Shakespeare, performed by Zoe Milton-Brown (soprano) and Benjamin Powell (piano) at the Burgess Foundation in November 2014.
---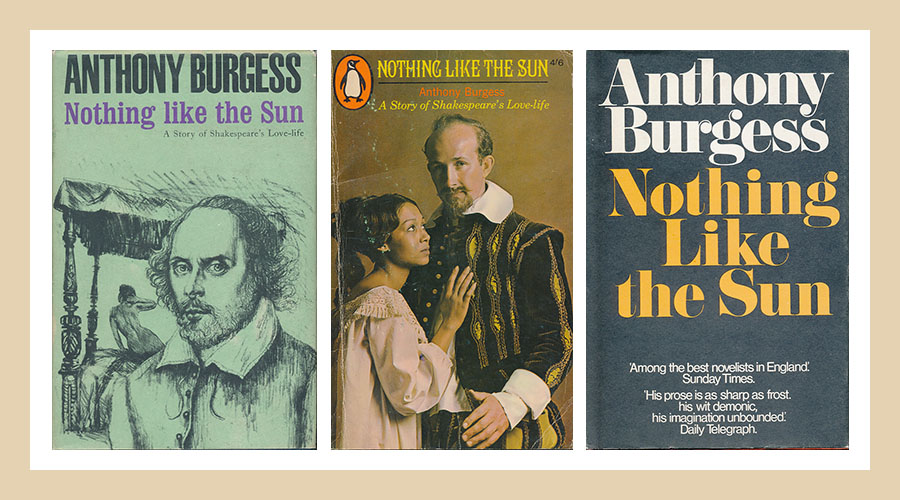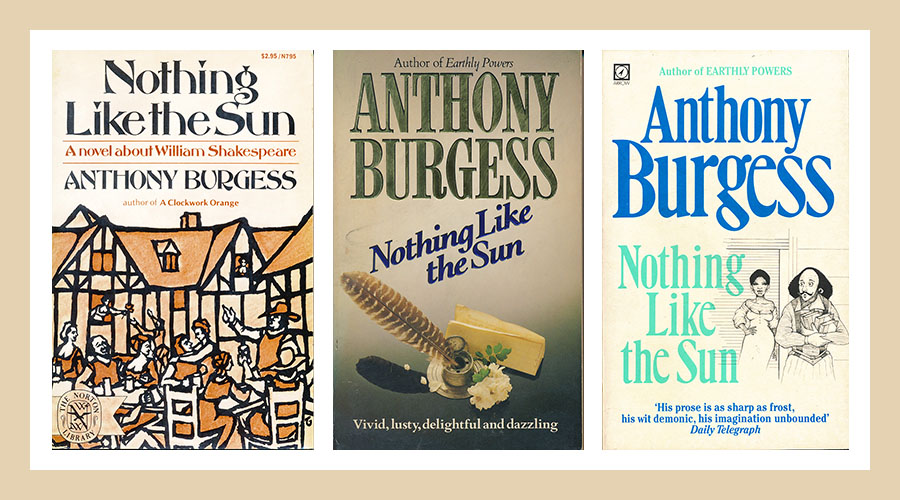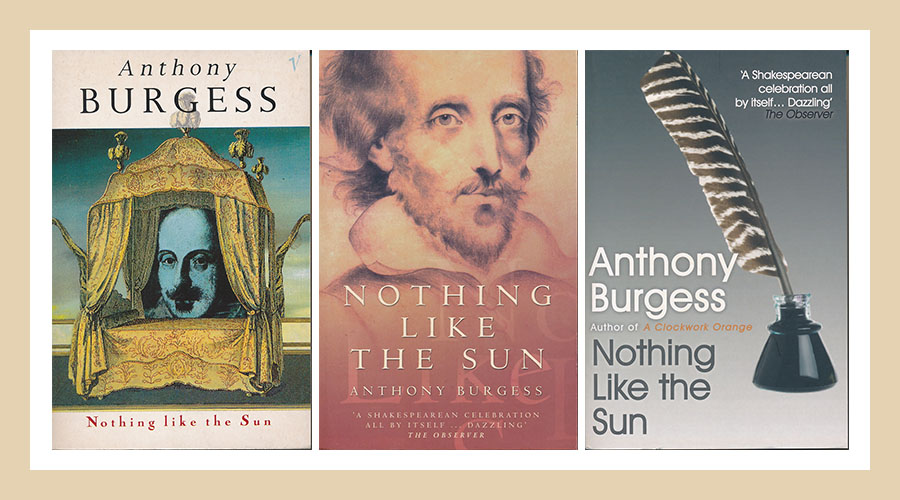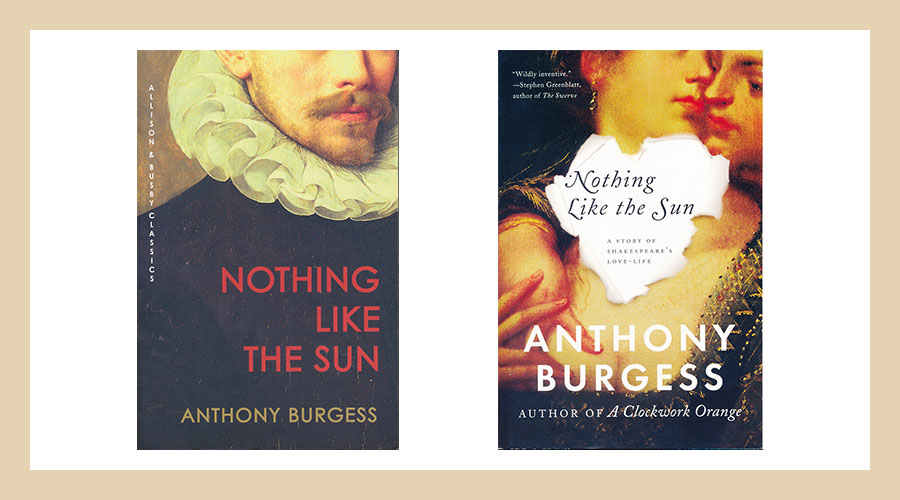 Editions of Nothing Like The Sun, Burgess's novel about Shakespeare's love-life, first published in 1964.
---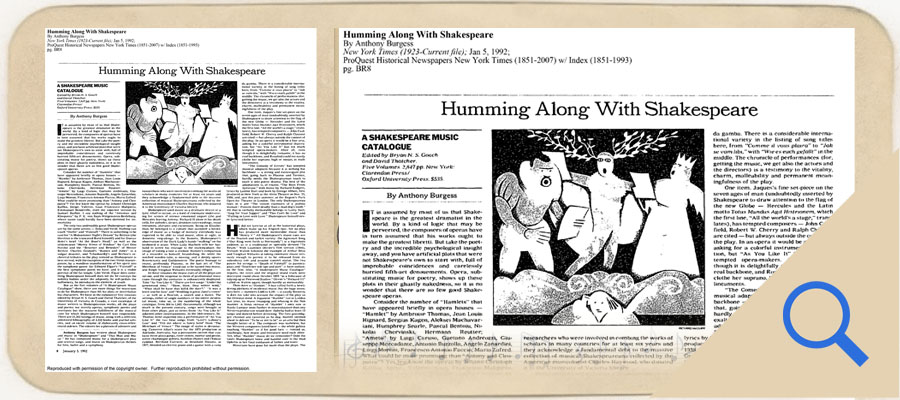 Burgess considers the challenges that Shakespeare poses for musicians and composers in this 1992 article.
---

Anthony Burgess's Shakespeare songs in context
Throughout his career, Anthony Burgess was fascinated by the writing and life of William Shakespeare.
He wrote novels such as Nothing Like the Sun, a novel about Shakespeare's love-life; articles about Shakespeare's language for the newspapers; a speculative biography with lavish illustrations, Shakespeare; a ballet suite, Mr WS, that told the story of Shakespeare's life; and Shakespeare's words feature in the finale of his Symphony in C. This exhibit looks at some of Burgess's lesser-known musical works about Shakespeare: songs for piano and voice.
The earliest reference to Anthony Burgess's Three Shakespeare Songs is found in the his musical autobiography This Man and Music. Burgess includes Three Shakespeare Songs for Voice and Piano (Under the Greenwood Tree from As You Like It, Apemantus's Grace from Timon of Athens and Come Thou Monarch of the Vine from Antony and Cleopatra) within a list of works composed in 1947. These manuscripts are now lost but another collection comprised of settings of the same Sonnets – written by Burgess in the 1980s – still exists.
Under the Greenwood Tree is written for female voice and piano and is a lilting ballad in 6/8. Apemantus's Grace – written for baritone – is an atonal and angular composition. And Come Thou Monarch of the Vine originally composed for two tenor voices, baritone and bass, is a short and simple piece. In comparison to Three Shakespeare Songs, Burgess's setting of Sonnet 116 is a more reflective and sombre piece. Composed for Barbara Beck (a singer) the Sonnet examines love in terms of what it is not:
Let me not to the marriage of true minds
Admit impediments. Love is not love
That alters when it alteration finds,
Or bends with the remover to remove:
O no; it is an ever-fixed mark,
That looks on tempests, and is never shaken;
It is the star to every wandering bark,
Whose worth's unknown, although his height be taken.
Love's not Time's fool, though rosy lips and cheeks
Within his bending sickle's compass come;
Love alters not with his brief hours and weeks,
But bears it out even to the edge of doom.
If this be error and upon me proved,
I never writ, nor no man ever loved.
The composition was discovered by Barbara's husband John Beck [1914 – 2014] along with Burgess's harmonica. John and Barbara (or 'Boo') Beck were neighbours and friends to Lynne and Anthony Burgess in Oxfordshire, when Burgess was teaching English at Banbury Grammar School. The manuscript is now in the collection of the Burgess Foundation.