The Foundation
Burgess Archive
As art is a mirror of oneself and oneself is one's life, so it is right to want to know about the life. – Anthony Burgess
in this section
What's in the archive?:

What's in the archive?
The International Anthony Burgess Foundation's unique archive collection provides an unrivalled insight into Burgess's life and work.
It consists not only of his personal, literary and business papers, but also of a private library of more than 8000 books, and a range of paintings, furniture, musical instruments, ornaments and other objects from Burgess's houses in Bracciano, London, and Monaco. The core of the collection was donated to the Foundation by Burgess's widow, Liana, in 2003.



We are working towards the creation of a full online catalogue to our collection:
Search our growing catalogue on the Archives Hub for details of literary manuscripts, music scores, photographs, vinyl records, musical instruments and more;
Find out more about our library by browsing our catalogue on Jisc Library Hub Discover;
View photographs of our musical instruments at MINIM-UK.

The collection primarily dates from 1934 onwards and contains a wealth of material including: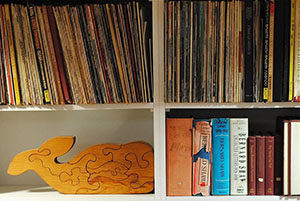 • extensive research materials for novels and other projects.
• a unique collection of books on language and linguistics, literary criticism, drama, music, travel, art, science, food and drink, history, poetry, biographies / autobiographies and general fiction belonging to Burgess and his family, many of which Burgess reviewed.
• family photographs and related personal items.
• an extensive audio collection (primarily on audio-cassette and vinyl), including commercial recordings of music and of spoken word owned by Burgess and his family; recordings of public lectures and seminars by Burgess; and unique home-recordings of Burgess and his family in conversation, playing instruments, reciting poetry and other literature, or discussing professional projects with other artists with whom they were collaborating.
• audio-visual material, including rare interviews and home videos.
• journalism by, or about, Burgess.
• business and legal correspondence, including book, theatre and film contracts.
• correspondence with publishers and literary agents and between Burgess and other notable writers and artists, such as Stanley Kubrick, Angela Carter, Erica Jong, Kingsley Amis, and Graham Greene.
• drafts and manuscripts of major novels, poems, screenplays and stage adaptations, including Earthly Powers, The Pianoplayers and Napoleon Symphony.
• music scores for orchestra, chamber, and other ensembles, much of which has never been performed.
• a large quantity of unpublished material, including non-fiction books, journalism, plays and film scripts.

We welcome all offers of donations of new material to our collection. If you are unsure about whether the material you have to offer fits within our collecting policy, please contact us.