The Foundation
Anthony Burgess novels
in this section
Anthony Burgess non-fiction & poetry: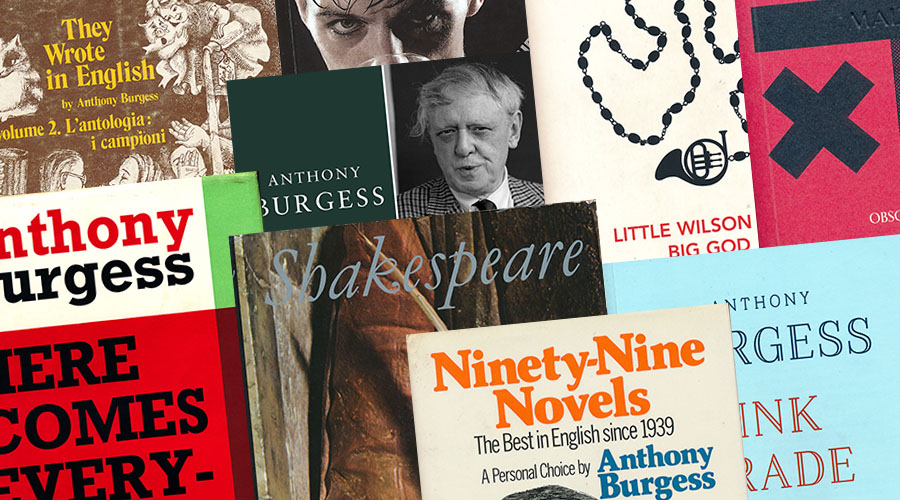 Anthony Burgess published his first novel, Time for a Tiger, at the age of 39. He is best known for his 1962 dystopia A Clockwork Orange and his epic saga Earthly Powers, which was shortlisted for the 1980 Booker Prize. In total he wrote 33 novels and 25 non-fiction books. This is a selective bibliography of Anthony Burgess's novels and non-fiction. There are many more works beyond these edited highlights: study Anthony Burgess's extensive bibliography and references.
---

English Literature: A Survey for Students (1958)
Burgess began his career as a teacher, and this book is designed to give students a historical overview of English Literature from the Anglo-Saxons to the twentieth century. Originally published under Burgess's real name, John Burgess Wilson.
Language Made Plain (1964)
Burgess's first study of language, in which he examines the development of language, the mechanics of speech, and the history of the alphabet. A useful introduction to his life-long interest in language and linguistics.
Here Comes Everybody: An Introduction to James Joyce for the Ordinary Reader (1965) BUY
Burgess often returned to Joyce's work in his fiction and non-fiction. In this valuable companion aimed at new readers, Burgess presents Joyce as a writer who invented a new style. Published in the United States under the title Re Joyce. Critics have described this as the best book ever written about Joyce.
The Novel Now: A Student's Guide to Contemporary Fiction (1967; revised edition, 1971)
Another example of Burgess as teacher and critic. Drawing on his experience of reviewing new fiction for newspapers and journals, he introduces many important themes of the twentieth century. Subjects include utopias and dystopias, the Second World War, women's writing, and the roman fleuve. There are chapters on British, Irish, European and American writing.
Urgent Copy: Literary Studies (1968)
Throughout the 1960s, Burgess made a name for himself as an astute and wide-ranging literary critic. This first collection of essays shows him expounding on subjects such as Shakespeare, Milton, Graham Greene, Marshall McLuhan and obscenity.
Shakespeare (1970) BUY
Shakespeare was another of Burgess's preoccupations. This biography blends scholarly research with the techniques of fiction writing to create a bold narrative which documents the facts of Shakespeare's life and brings Elizabethan England to life in vivid colour. The book was originally published with illustrations, restored in the Folio Society edition.
Joysprick: An Introduction to the Language of James Joyce (1973)
Burgess returns to Joyce. Where Here Comes Everybody focused on the complete canon of Joyce's writing, this book guides readers through the linguistic complexities of Ulysses and Finnegans Wake. This book was part of 'The Language Library', a series edited by Eric Partridge and David Crystal.
New York (1976)
A rare example of Burgess as travel writer. He lived in New York in the early 1970s, and this book illuminates his experiences, giving strong opinions about the best and worst of the city. Illustrated with colour photographs, the book was part of Time-Life's 'Great Cities' series.
Ernest Hemingway and His World (1978)
Burgess's account of Hemingway's life is a balanced portrait, which is honest about the less appealing aspects of the writer's life. The resulting book celebrates Hemingway's power as a great stylist who made great literature.
They Wrote in English (1979)
Originally published in Italy, this survey of English literature is designed for students. The work comes in two volumes: a history of literature, followed by an anthology drawing on the complete Anglo-American canon. This is a generous and expansive mapping the literature from the English-speaking world.
This Man and Music (1982) BUY
Music was a crucial part of Burgess's life as a writer-composer. This is his most sustained piece of writing about the intersection of music and literature. Drawing on his T.S. Eliot Memorial Lectures, Burgess examines the art of symphony-writing and the music of poetry. Later chapters identify musical structures in Burgess's MF and Napoleon Symphony. Part autobiography and part analysis of musical forms, the book as a whole is a uniquely Burgessian performance.
On Going to Bed (1982)
In this book-length non-fiction essay, Burgess describes the pleasures and pitfalls of the bedroom, from the joys of sleeping late to the curse of the nightmare, and, of course, the romantic possibilities of beds. It includes historical writing about bedrooms, childbirth and deathbeds, and is illustrated throughout.
Ninety-Nine Novels: The Best in English Since 1939 (1984)
In selecting his favourite ninety-nine novels, including books by Iris Murdoch, Thomas Pynchon, Muriel Spark, and George Orwell, Burgess lays down a challenge: how many have you read? Presenting a micro-chapter for each book, this is an essential guide to Burgess's wide interests and influences.
Flame into Being: The Life and Work of D.H. Lawrence (1985) BUY
The third of Burgess's literary biographies presents the author of The Rainbow, Women in Love and Lady Chatterley's Lover. Burgess's passion for Lawrence burns as brightly as his enthusiasm for Joyce and Shakespeare. This entertaining portrait contains some of his best critical and biographical writing.
Homage to Qwert Yuiop: Selected Journalism (1986)
The largest collection of Burgess journalism provides wide-ranging examples of Burgess's talent as an essayist, including literary reviews, essays on music and an encounter with Graham Greene. It was published in the United States as But Do Blondes Prefer Gentlemen?
Little Wilson and Big God (1987) BUY
Subtitled 'The Confessions of Anthony Burgess', this is no typical autobiography. Burgess deploys his novelistic powers to tell the story of his life from early years in Manchester, through his wartime service, to his adventures in South-East Asia in the 1950s. How much is true, and how much is glorious fiction? We can't tell, but the book is a rollicking read.
You've Had Your Time (1990) BUY
The second volume of Burgess's 'Confessions' covers his life as a working author. In the first chapter he is diagnosed with a mysterious illness and given a year to live. An engaging narrative of tragedy, triumph and literary adventures across the globe.
A Mouthful of Air: Language and Languages, Especially English (1992)
Burgess returns to the subject of languages, exploring subjects such as slang, dialect, the making of dictionaries and how to learn a foreign language. He also examines languages such as Russian, Japanese and Malay. This was the last non-fiction book to be published in Burgess's lifetime.
One Man's Chorus: The Uncollected Writings (1998)
The first posthumous selection of Burgess's journalism includes essays on cities, autobiographical pieces and reflections on politics, literature, music, and European culture. The book was edited by Ben Forkner, founder of the Anthony Burgess Centre in France.
The Ink Trade (2018) BUY
A brilliant selection of Burgess's reviews and articles: some savage, some crucial in establishing new writers, new tastes and trends. Edited by Will Carr, this volume includes some previously unpublished material from the Burgess Foundation's archive.
Obscenity  and the Arts (2018) BUY
First published as a pamphlet in Malta, Burgess's provocative essay on censorship is brought to a wider audience by Pariah Press. This expanded edition includes a biographical introduction by Andrew Biswell and a punchy riposte by Germaine Greer. It is illustrated by Liana Burgess's photographs of Malta and original artwork by Adam Griffiths.
---

Cyrano de Bergerac (1971) BUY
Burgess's triumphant version of Edmond Rostand's famous French play was staged in 1971. Two years later, he reworked the same material as a Broadway musical, Cyrano. Burgess reworked his translation for an RSC revival in 1985, and was later asked to provide rhyming English subtitles for Jean-Paul Rappeneau's 1990 film, starring Gérard Depardieu as the soldier-poet with an enormous nose.
Oedipus the King (1972)
Burgess's new adaptation of the Greek tragedy by Sophocles was performed at the Guthrie Theater in Minneapolis in 1972. It was revived for BBC Radio 3 in 2017, with Christopher Eccleston in the title role, and with the music written for the first production by Stanley Silverman.
Blooms of Dublin (1986)
Burgess's musical play based on James Joyce's Ulysses was a labour of love: he began working on it in 1965. It was completed in time for the centenary of Joyce's birth in 1982 and performed on Raidió Teilifís Éireann and BBC Radio 3. Burgess and his wife Liana made an Italian translation of this work in 1993.
A Clockwork Orange: A Play with Music (1987) BUY
This musical adaptation, featuring Alex and his three droogs, has been performed all over the world. Burgess wrote his play in response to unauthorised stage versions performed in the 1970s and 1980s. He presents a bold alternative vision to Stanley Kubrick's famous film.
Revolutionary Sonnets and Other Poems (2002) BUY
A dazzling collection of Anthony Burgess's poetry and verse, including extracts from Cyrano de Bergerac, A Clockwork Orange: A Play with Music, the complete poems of F. X. Enderby, and Burgess's student poetry. Reissued to celebrate the Burgess centenary.
Collected Poems (2020) BUY
Jonathan Mann's edition presents the most complete collection of Burgess's poetic writing: early lyrics, occasional pieces, translations from the Roman poet Belli, the full text of his verse novel Moses, and previously unpublished longer works.