NEWS AND BLOG POSTS
Anthony Burgess collections around the world
Anna Edwards

12th August 2020
The Burgess Foundation is not the only archive dedicated to the work of Anthony Burgess. We cast our eye further afield to Burgess collections elsewhere.
---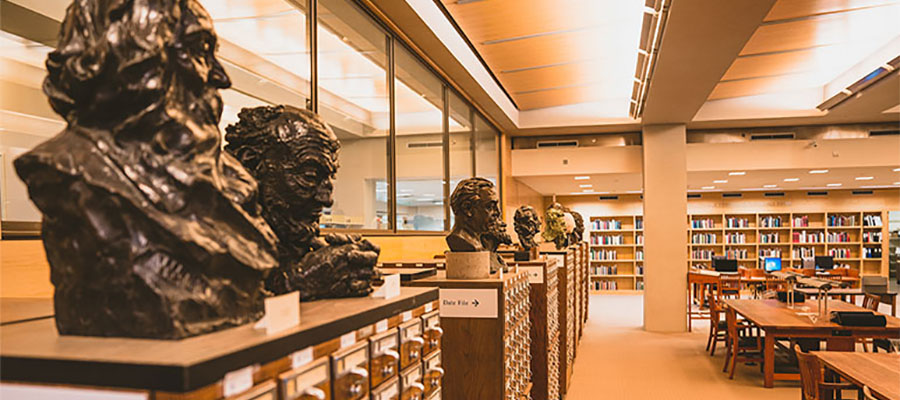 Harry Ransom Center card catalog (pic: University of Texas at Austin)
---
Given Anthony Burgess's peripatetic existence and his international appeal, it is perhaps no surprise that the Burgess Foundation's collection of books and manuscripts is one of a number of Burgess archives worldwide.
While recognising that our collection is unique in its scope, we are keen to strengthen ties with other organisations holding Burgess-related material, to help dissolve barriers between physically disparate collections and open up new opportunities for collaborative research and engagement.
Here are five other organisations with sizeable Burgess collections. Follow the links to find out more about their holdings.
---

Anthony Burgess Centre, University of Angers, France
The Centre was established in 1998 by Ben Forkner when Liana Burgess donated a collection of books, photographs, literary manuscripts and music to Angers University Library.
The collection originated in Burgess's homes in Callian (in the Var region of France) and Lija in Malta.
A second collection of audio-visual material was donated to the University of Angers by David Thompson in 2001. This relates to the 1999 BBC television documentary The Burgess Variations, produced and directed by Thompson.
Find more information about the collection in Angers.
---

Institut Mémories de L'Édition Contemporaine (IMEC), Normandy
The IMEC collection documents the history of publishing.
Papers relating to Anthony Burgess extend to 78 archive boxes and consist of a collection of journalism typescripts, music scores, contract files, and publishing correspondence in English and French, dating from 1960-1988.
Here's an overview of the IMEC Burgess archive.
---

Harry Ransom Center, University of Texas at Austin
The Anthony Burgess Papers extend to over 57 linear feet and consist of literary typescripts/manuscripts, music scores, correspondence, press clippings, contracts and other legal documents, appointment books, magazines, and photographs.
The papers date from 1956-1997 (bulk 1970s-1980s) and were acquired from Liana Burgess in 1995, 1997 and 1999.
Use this detailed finding aid to find out more.
---

Washington University in St Louis (WUSTL), Missouri
The Anthony Burgess Papers consist of typescripts and manuscripts relating to Devil of a State, The Wanting Seed, Language Made Plain, and Nothing Like the Sun.
The collection includes some miscellaneous papers by Burgess, including a typescript review of John Barth's Giles Goat-boy, a reader's report for L'Amour by René Allendy, and a fragment of orchestral music, 'Song of the South Downs'.
The papers extend to two archive boxes and date from 1961-1967. They were acquired in 1966. Inspect the catalogue here.
---

McMaster University, Hamilton, Ontario
The collection dates from 1958-1978 and extends to 50cm. It consists of typescripts of many of Burgess's early novels, including A Clockwork Orange (1962), The Enemy in the Blanket (1958), and Beds in the East (1959); correspondence with Christopher Ricks, William Cole, and Ceridwen Looker; and two music manuscripts.
The typescripts were acquired from Burgess between 1967 and 1983. Further material was acquired from other sources in 1991, 1995 and 1998.
Here's some detailed information about the McMaster archive.
---

And much more…
In addition to the dedicated Burgess collections described above, other material, such as correspondence, literary manuscripts, journalism, and music, exists within a host of other archives.
Much of this material can be identified using online resources such as the Archives Hub and the Location Register of English Literary Manuscripts and Letters.
The following collections will also be of interest to Burgess scholars.
The extent and scope of available material promises to support research into Burgess and his oeuvre for many years to come.
It is tantalising to note, however, that some works remain elusive. For example, there is no sign in these collections of the manuscripts of early novels such as The Worm and the Ring and Time for a Tiger.
And is Burgess's lost stage musical about the life of Harry Houdini somewhere, waiting to be discovered?
---