NEWS AND BLOG POSTS
Anthony Burgess's fictional Manchesters
Will Carr

29th September 2020
To celebrate the reopening of the International Anthony Burgess Foundation in Manchester, we look at Burgess's identity as a Mancunian.
---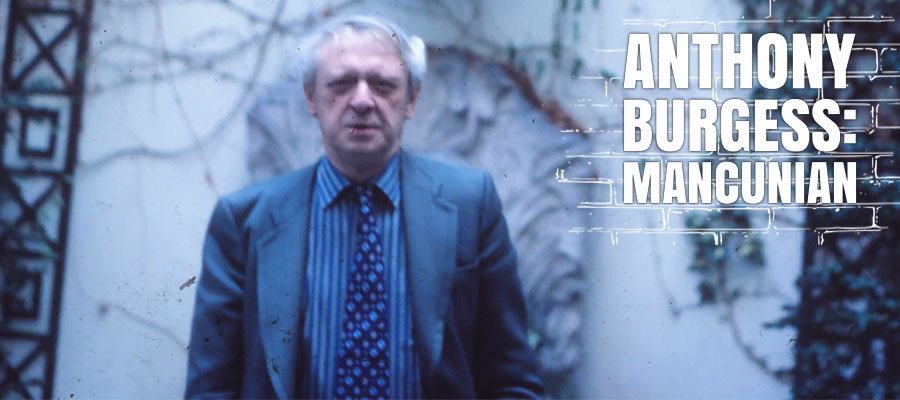 Anthony Burgess left Manchester in 1940 and returned only occasionally thereafter. Yet the city of Manchester and its people appear many times in Burgess's writing — Manchester accents, landmarks, and even smells pervade his literary work.
Visiting Leningrad in 1961, Burgess was reminded of his childhood:
I think it was the sense of the architecture, the rather broken-down architecture of Leningrad, the sense of large numbers of the working class, rather shabbily dressed. And I suppose in some ways the smell of Manchester — I always associated Manchester with the smell of tanneries, very pungent smells, as you know. I got the same smell out of Leningrad. It's a small thing, but these small things have a curious habit of becoming important.
The Leningrad-Manchester connection became important for Burgess in the composition of A Clockwork Orange: Burgess drew on his experiences of the Russian city and his home town to create the deliberately unspecified future urban dystopia that provides the background to his novel.
Burgess's Bradcaster
However, Burgess's first fictional Manchester appeared a year before A Clockwork Orange, in his novel One Hand Clapping. Set in a northern town Burgess calls Bradcaster, the novel satirises the limited horizons and deprived inner lives of its inhabitants, trapped in a dreary, shallow provincial England with no means of escape. The novel's heroine, Janet Shirley, is the only dynamic figure, and her imagination and intelligence ultimately enable her to break free.
It is not difficult to see parallels with Burgess's own journey, or at least with his perception of it: his university education, and the war, were his route out of what he sometimes felt was a stifling environment in Manchester.
Still a Mancunian
Visiting Manchester in 1989, Burgess took part in a documentary for the BBC and commented during the train journey north: 'Mancunians don't take kindly to people leaving their city, and I've already heard that somebody has said that I've become a 'stuck-up, opinionated bastard' solely because I've left Manchester. Any trip back to the past is disturbing, but I'm a bit excited because these are my own people. I think I'm still very much a Mancunian.'
On the recording, 'stuck-up bastard' is given great emphasis, and a strong Manchester accent.
Listen here:
---

---
A city of conflicts
It is not unusual to have conflicting feelings about one's home city, or indeed one's past. During the 1980s, Burgess began to write his memoirs, the first volume of which is Little Wilson and Big God (1987): Manchester emerges as 'an ugly world with ramshackle houses and foul back alleys'. The account of his childhood is shadowed by grief arising from the early deaths of his mother and sister, and the loneliness he associated with his distant father and the stepmother he disliked.
Yet the novel Burgess completed at this time, The Pianoplayers (1986), presents an entirely different world. Even while the action of the novel parallels Burgess's early life, with his protagonist Ellen sharing his birthday, the same family tragedy, and a similar feckless musician father, the Manchester of the 1920s and 1930s (and Blackpool, where Burgess spent his holidays) is presented as a place of excitement and adventure. Ellen's resilience and good humour triumph over great adversity, and the affectionately frustrated relationship between Ellen and her kind and generous (if weak and easily led) father is at the heart of this warm and life-affirming novel.
Burgess's somewhat unreliable autobiography perhaps has no more claim to the whole truth than does his fictional writing about Manchester.
Any Old Iron
Any Old Iron won Burgess the Portico Prize for the north-west book of the year 1989, awarded by the Portico Library. In this novel, Burgess draws on his memories of being a student at the University of Manchester in 1939. Any Old Iron takes in a grand sweep of the twentieth century, including the sinking of the Titanic, two world wars, and the Russian revolution, viewed through the eyes of two connected families, one of which is Manchester Welsh and Russian, the other Manchester Jewish.
Manchester appears in nostalgic detail, with 'a very Manchester meal of fried egg and chips' at the Kardomah Café, an upmarket Art-Deco Manchester institution on Deansgate, open from the 1930s to the 1970s; Burgess's narrator hears Constant Lambert's Rio Grande at the Royal College of Music, as Burgess himself had done, aged twelve, at the Free Trade Hall in 1929. (Lambert is pictured on the left.)
Manchester is the point from which the rest of this epic novel departs. Burgess acknowledged the Mancunian roots of Any Old Iron but, as he said in an interview for BBC Greater Manchester Radio: 'I've always regretted that while Dublin produced a great novel, Ulysses, I feel that Manchester should have had a novel like that but never did, and I don't think I'm qualified to write it.' In Little Wilson and Big God he writes about his admiration for Shabby Tiger, Howard Spring's depression-era novel about artists in Manchester, published in 1934 and later adapted as a Granada TV series.
Although Burgess claimed that the great Manchester novel was yet to be written, his own writing occupies a secure place in the literary history of the city, alongside works such as Mary Barton by Elizabeth Gaskell (1848), The Manchester Man by Isabella Banks (1876), and Magnolia Street by Louis Golding (1932). More recent Manchester writers include Howard Jacobson, Zahid Hussain, Caroline Aherne, Sophie Hannah, Michael Symmons Roberts, Lemn Sissay, and Carol Ann Duffy, who was the first woman to be appointed UK Poet Laureate in 2009.
In 2017 Manchester was designated a UNESCO City of Literature. Find out more about Manchester's literary heritage and its future.
---
More Anthony Burgess: Mancunian
Read our introduction to 'Anthony Burgess: Mancunian'. In our next Mancunian blog post, we will present the complete text of a rare Burgess article, titled 'I Am a Mancunian'.