NEWS AND BLOG POSTS
Clever-clever: Critiquing Anthony Burgess's Shakespeare biography
Will Carr

25th August 2020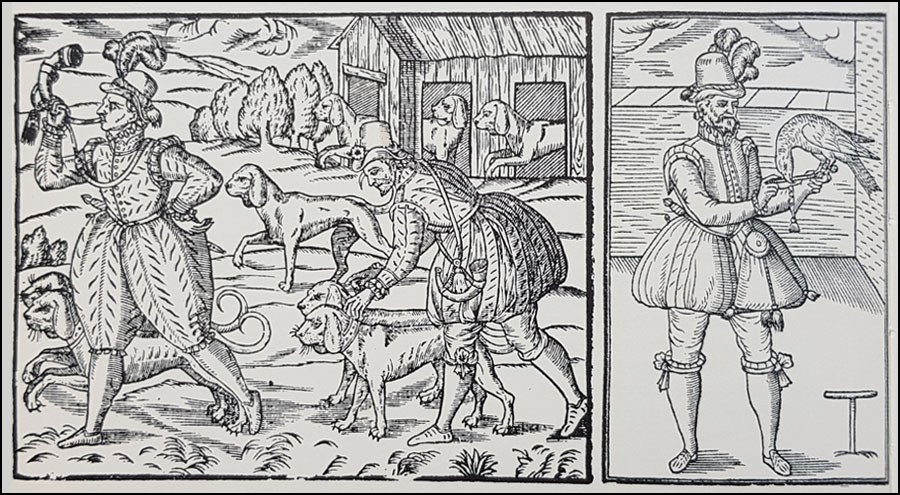 Anthony Burgess's Shakespeare was published in 1970 by Jonathan Cape as a lavishly illustrated folio (see above). Burgess described his biography as a mode of using up the research he had done for a film about Shakespeare's life that he had written for Warner Brothers, a project apparently mired in development problems and unlikely to be realised.
The book itself emerged as something more than that: a vigorous, colourful and extravagant, even fanciful portrait of Shakespeare's life and times, balanced by sharp observations about Shakespeare's plays.
In the second volume of his memoirs, Burgess is a little dismissive of the finished biography, noting that he 'understood that the true Shakespeare scholars of Princeton thought little of the text, but that was to be expected'. However, he clearly paid attention to the opinions of its reviewers.
While some American publications were quite positive about the book, Burgess notes that 'disparagement came from my native country,' and he quotes several negative reviews from the British press. As he writes in You've Had Your Time:
The Tablet, for instance, found 'the captions … coy, clever-clever, or muddled. Plain factuality would have helped matters. Burgess plainly does not know the religion of Shakespeare's home and district, and his groundless attack on Shakespeare's wife leads you to think that the biographer had known and hated her most of his life. One gets a strong feeling that Burgess had little heart for the work.' Unjust.

The Economist said: 'His scholarship is defective, and the chronological order of the plays is either based on outmoded, or crankily hypothetical theories. The literary opinions are wilfully odd and coarse; they suggest that Burgess is carelessly writing down for an ignorant public.'
It is not clear why Burgess sets out these criticisms so carefully and accurately, and with so little complaint, apart from finding the imputation of a lack of sincerity 'unjust'. There can be no doubt, of course, that he was devoted to Shakespeare throughout his writing life.
The point about Burgess's 'groundless attack' on Ann Hathaway was developed in 2007 by Germaine Greer in her own biographical book, Shakespeare's Wife. Greer's polemical account of Ann Hathaway's life seeks to counter the traditional portrayal of her by male critics as having been a brake on Shakespeare's creativity.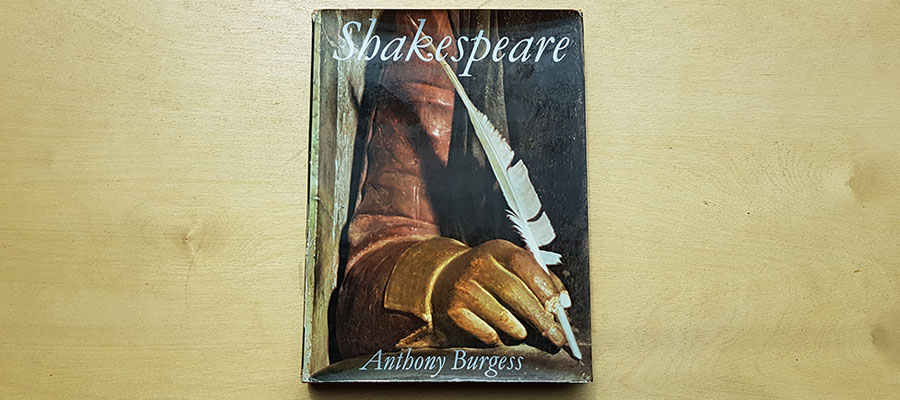 The Shakespeare marriage has been portrayed negatively in many accounts, with attention given to the age difference between him and Ann, their abrupt wedding, Shakespeare's long absences from his wife and family in London, and his formal bequest to 'my wife' of 'the second-best bed'. These facts have often been combined to conclude that Shakespeare's marriage was unhappy, or at the very least detached and transactional. Greer's approach is to reassess what is known about Ann Hathaway and to present an alternative view.
One of her targets turns out to be Burgess, one of whose conjectures in his Shakespeare biography is that Shakespeare ended up marrying the wrong woman. Here is Burgess:
It is reasonable to believe that Will wished to marry a girl called Ann Whateley … Sent on skin-buying errands to Temple Grafton, Will could have fallen for a comely daughter, sweet as May and shy as a fawn. He was eighteen and highly susceptible. Knowing something about girls he would know that this was the real thing. Something, perhaps, quite different from what he felt about Mistress Hathaway of Shottery.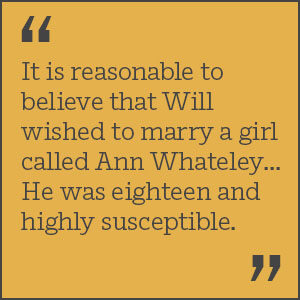 Greer points out that Burgess has entirely invented the beauty and temperament of Ann Whateley, about whom nothing is known, and characterising the older Ann Hathaway as 'Mistress' is rhetoric designed to present her as 'forbidding, spinsterish, schoolmarmy even.'
She goes on to show that Burgess stigmatises Ann Hathaway as promiscuous, rather than 'chaste, not wanton and forward' like Anne Whateley; and points out his invention of Shakespeare's feelings, again not recorded, as he marries: 'Will gave in, with bitter resignation, and was led to the slaughter, or the marriage bed.'
Greer's critique of Burgess is part of a wider project in her book to point out the failings of mainstream, and male, approaches to Shakespeare's biography, and — misogynistic tropes notwithstanding — Burgess is unlucky in this respect to be singled out. He makes no claims for the accuracy of his historical research, and indeed he takes pains, throughout the text of Shakespeare, to draw attention to the speculative nature of many of his statements. More than once he describes his ideas as 'very unsound', invites us to ignore what he is saying, and even introduces overt literary techniques to his telling of Shakespeare's story, such as when he begins a particularly extravagant passage of description: 'This is the moment for the traditional florid cadenza to mark Will's first glimpse of London. Very well, then.'
Given this, it may be profitable to place Burgess's Shakespeare biography in the context of his other, creative work about Shakespeare, especially the novels Nothing Like The Sun and Enderby's Dark Lady, where Shakespeare appears not only as a fictional character, but as a way of thinking about the nature of fiction and biography.
Germaine Greer has made a more recent engagement with Burgess's work in her fascinating essay 'Dirty Books & Laughing Stocks', published in 2018, alongside Burgess's lecture given in Malta on the evils of censorship, 'Obscenity and the Arts'. She places Burgess's writing in the context of the 1970s' counterculture and the very real threats to artistic and creative expression, both in Malta and in Britain. The limitations of his approach are once again provocatively exposed. Sadly, there is no record of Anthony Burgess and Germaine Greer ever having met.
---