NEWS AND BLOG POSTS
Exploring the recordings of the 'showman' Anthony Burgess
Milena Schwab-Graham

7th May 2021
The Foundation supports academic study into Anthony Burgess. In this guest blog post, PhD researcher Milena Schwab-Graham writes about her work on the extensive Anthony Burgess cassette tape collection.
---
In This Man and Music (1982), Anthony Burgess's collection of essays exploring the interconnections between music and literature, he calls himself a 'faker, a patcher, something of a showman'. Burgess was, in his own words, 'more of a practising novelist (and hence something of a rogue and a mountebank) than a practising scholar,' which meant he was 'limited to themes which have a direct bearing on [his] work' (quotes taken from Anthony Burgess's letter to Gerald Duff, 8 May 1979).
However, upon delving into the extensive audio archives held by the International Anthony Burgess Foundation, we realise that we cannot always take Burgess at his word – which only heightens our curiosity about this extraordinary man, and the pleasure to be found in engaging with his work.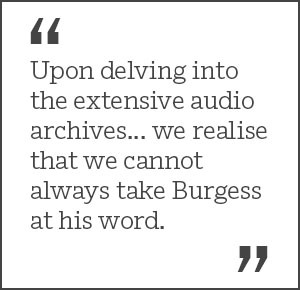 The scope of Burgess's polymathic tendencies is evident in his prolific creativity. This took many forms, including, prose, poetry, literary criticism, musical composition, translation, journalism, and writing for stage and screen. The archives of the International Anthony Burgess Foundation in Manchester are a touchstone for all who wish to enter into the mind of Burgess, and trace the origins and influences of his work.
A crucial part of the archive is its extensive catalogue of audio recordings captured by Burgess's second wife, Liana (1929-2007). Preserved on audio cassettes, the collection consists of many lectures, speeches, and lesser-known interviews with Burgess.
To ensure that the collection remains accessible to future generations of Burgess researchers and enthusiasts, the Foundation has initiated the 'Anthony Burgess on Tape' project, working in collaboration with the White Rose College of the Arts and Humanities Doctoral Training Partnership. As a doctoral researcher based in the School of English at the University of Leeds, I have been offered the exciting opportunity to undertake this work.
Over the coming months, I will be cataloguing a selection of audio recordings to ensure their form and content is readily understandable to all those wishing to explore the Burgess audio archive. The selection is especially fascinating, as it reflects the breadth and depth of Burgess's oeuvre. Discussions of his works, such as his novels A Clockwork Orange (1962) and Earthly Powers (1980), are rendered all the more illuminating due to Burgess' seemingly effortless ability to evoke a network of literary, philosophical, and socio-political allusions. These encompass a multitude of topics, including Modernism, Catholicism, cacotopias, utopias, morality, and the intricacies of his creative processes.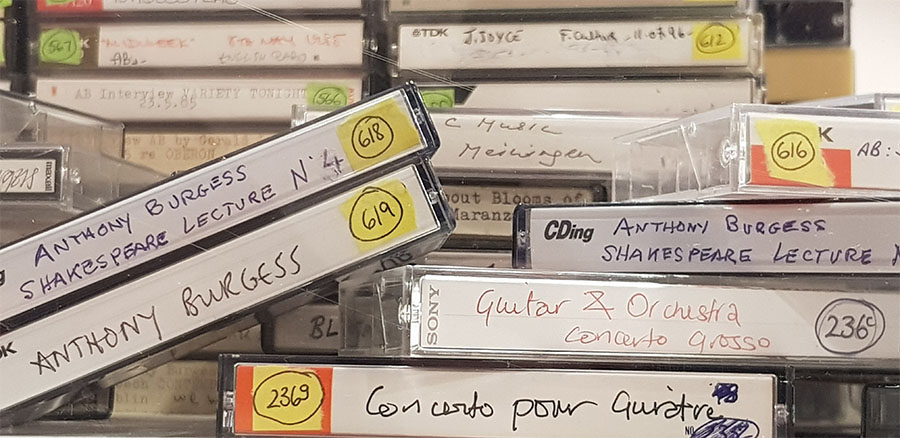 I am currently producing an item-level catalogue of the recordings while also being involved in work which furthers public engagement with Burgess's life and work, including the production of online web content for the Foundation, and participation in the Burgess Foundation podcast.
At this early stage of the project, it is exciting to begin to uncover the connections between the manifold aspects of Burgess's work. I was drawn to the project by Burgess's ability to experiment across different creative forms, as well his abiding interest in literary Modernism, as my own doctoral research focusses on the women writers George Eliot, May Sinclair, and Sylvia Townsend Warner, who variously engaged in poetry and prose writing, journalism, translation, and, in Warner's case, musical composition.
---
If you would like to find out more about the Burgess archive in Manchester, including links to detailed listings of some of our collections, start here
---
There is hope, travel restrictions permitting, that an in-person visit to the Foundation headquarters in Manchester will be possible in the coming months. Thankfully, the Foundation has been especially accommodating and resourceful, providing digitised copies of the audio files, so work on the project has been able to make good progress despite the pandemic.
Burgess's combination of dry provocation, roguish charm and social commentary render the recordings equally informative and entertaining. Speaking on tape, Burgess is as likely to examine James Joyce's use of language in Finnegans Wake (1939) as he is to consider the future of human society, or, with playful disingenuousness, compare his ongoing composition of a symphony to the habitual activity of knitting. All of this, of course, adds to the appeal of hearing Burgess speak. You never quite know what you're going to get, but you can be sure that it will lead your thinking into new, unexpected directions; in short, it'll be well worth listening to.
---
Milena Schwab-Graham is a PhD Student at the University of Leeds. Her research is funded by the Arts and Humanities Research Council through the White Rose College of the Arts and Humanities.
---