Anthony Burgess
Anthony Burgess
These articles focus on particular aspects of Anthony Burgess's life and work, including his biography, novels, music, films, and religious beliefs.
in this section
Catholic: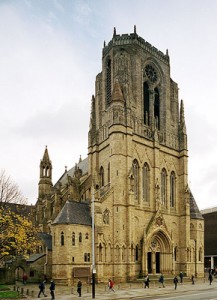 Anthony Burgess was raised as a Roman Catholic, and he attended two Catholic schools in Manchester: Bishop Bilsborrow Memorial School in Moss Side (1923-1928) and Xaverian College in Rusholme (1928-1935). As a boy he was told that there had been an Elizabethan martyr in his father's family, the Wilsons of Lancashire, although there is not much evidence to substantiate this claim. Later on, in an autobiographical essay composed in 1977, he suggested that there had been a Jacobite martyr in his mother's Scottish family. Martyrdom and Catholicism are central preoccupations his novel Tremor of Intent (1966), and in Earthly Powers (1980) it is implied that the secular rationalist Kenneth Toomey has become a martyr to literature.
Through his father's marriage to Margaret Dwyer, he acquired an extensive Catholic step-family, including two cousins, George and James, who became priests. George Dwyer, a distinguished theologian who was educated in Rome, went on to become the Bishop of Leeds (from 1957) and the Archbishop of Birmingham (from 1965 until his death in 1987). Asked by the Independent newspaper to name his hero in 1989, Burgess chose George Dwyer, whom he described as 'a Roman Catholic prelate in the Rabelaisian tradition'.
Writing about his Catholic boyhood in Urgent Copy, Burgess said: 'I was a Catholic in a Protestant country, an Old Catholic who, as a young child, took my beliefs as self-evident and never for one moment imagined that they were the beliefs of an assailed minority. My birthplace was Manchester, and Lancashire did its best to resist the Reformation. Guido Fawkes and Robert Catesby had tried to blow up Parliament on behalf of the English Catholics. Was it right for us children to enjoy the fireworks and the bonfire? Religion got in the way of friendship and, when the time came for love, love.'
In The God I Want, edited by James Mitchell in 1967, Burgess wrote: 'The God my religious upbringing forced upon me was a God wholly dedicated to doing me harm. That's pretty much what my elders said — priests and nuns and relatives, as well as the penny catechism. A big vindictive invisibility.'
Burgess underwent a crisis of religious faith at the age of sixteen, prompted in part by his reading of James Joyce's A Portrait of the Artist as a Young Man. In 1965 he recalled his conversations with the Jesuit priests at the Church of the Holy Name on Oxford Road in Manchester: 'With me, at an age when I could not counter the arguments of the Holy Name Jesuits, it was unavoidable agony since it was happening, it seemed, against my will. As an English schoolboy brought up on the history of the Reformation, I rejected a good deal of Roman Catholicism, but instinct, emotion, loyalty, fear, tugged away. Joyce summed it up for me in Portrait of the Artist, where Stephen Dedalus is talking to a friend outside the university by the colonnade about his own rejection of the Church.'
His sense of exile and outsiderness was intensified when he posted to Gibraltar from 1943 until 1946. 'I was not quite an agent of colonialism, since I was a soldier. I was not quite one of the colonized, since I was English. But, being a Catholic, I had a place in the Corpus Christi processions of the Gibraltarians. I was part of the colony and yet I would always be outside it. But I could resolve my elements of new and different exile in my art.'
Although Burgess identified himself as an apostate and an 'unbeliever' from the age of sixteen, he could not avoid
addressing religious subjects, both in his music — which includes numerous settings of works by Catholic poets — and in his imaginative writing. Through the 1970s and 1980s, he produced a trilogy of long works about Moses, the life of Jesus Christ and the Acts of the Apostles: these were published as Moses: A Narrative, Man of Nazareth and The Kingdom of the Wicked. Each of these books was accompanied by an epic television series, scripted by Burgess: Moses the Lawgiver (starring Burt Lancaster), Jesus of Nazareth (directed by Franco Zeffirelli), and AD: Anno Domini.
Interviewed by the Paris Review in 1973, he said: 'The novels I've written are really medieval Catholic in their thinking, and people don't want that today.'
In the same interview with John Cullinan, he spoke of other English novelists who had used Catholicism as material for their fiction: 'English converts to Catholicism tend to be bemused by its glamour and even look for more glamour in it than is actually there — like Waugh, dreaming of an old English Catholic aristocracy, or Greene, fascinated by sin in a very cold-blooded way. The fact is that I prefer the converted Catholics because they happen to be better novelists. I do try to forget that Greene is a Catholic when I read him. Crouchback's Catholicism weakens Sword of Honour in the sense that it sectarianizes the book. We need something that lies beneath religion.'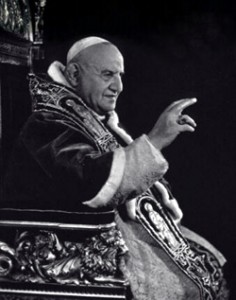 Burgess summed up his religious position in an essay, 'On Being a Lapsed Catholic' (1967): 'I find that I have no quarrel with the whole corpus of Catholic doctrine; granted the ignition spark of faith, all the tenets of the Church would hold for me. Indeed, I tend to be puristic about these, even uneasy about what I consider to be dangerous tendencies to slackness, cheapness, ecumenical dilutions.' Elsewhere he wrote: 'I'm a Jacobite, meaning that I'm traditionally Catholic, support the Stuart monarchy and want to see it restored, and distrust imposed change even when it seems to be for the better.'
Asked about his religious views by Rosemary Hartill in 1989, Burgess said: 'Christ used the term "the kingdom of heaven" — it is a metaphor. I don't think it refers to a real location. I think it is a state of being in which one has become aware of the nature of choice, and one is choosing the good because one knows what good is.'
He added: 'If it was suddenly revealed to me that the eschatology of my childhood was true, that there was a hell and a heaven, I wouldn't be surprised.'