NEWS AND BLOG POSTS
Inside the archive: Anthony Burgess's notebooks
Our Inside The Archive blog series casts new light onto the Burgess Foundation's collections. In this post, we take a leaf from Anthony Burgess's notebooks.

Fourteen of Anthony Burgess's diaries and notebooks survive in the collections at the Burgess Foundation, containing fragmentary but intriguing manuscript material dating from 1940 to 1977.
Burgess was not an especially prolific diarist, and his attempts to keep a daily record of his activities do not usually last beyond a few entries. In 1951 a diary begins with great energy on 1 January, but peters out by 4 February. Subsequent attempts fare rather worse, ending on 3 January 1952 and 2 January 1954.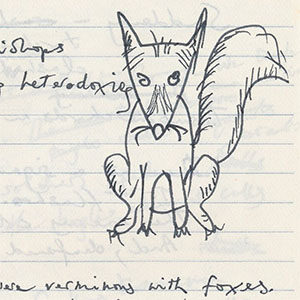 The interest in these early diaries lies in his collaboration with his first wife, Lynne, who contributes some of the entries herself:  these brief records are among the few examples of Lynne's own writing.
Apart from a small number of letters and photographs, and a handful of books that now form part of the Burgess Foundation library, Lynne Wilson did not leave many traces and much of what is known about her life with Burgess is told in his words: these fragments are a glimpse of another perspective. Of particular interest are diaries covering the months between January 1955 and December 1956, mostly written by Lynne, while the Burgesses were living in Malaya, providing an important contemporary record of their time there.
Some notebooks add to our understanding of the development of particular literary works. A notebook entry by Burgess on a page dated 4 February 1958 contains an early reference to the novel that would become A Clockwork Orange. The outline shows that Burgess originally intended the novel to be set in 1980, and for the protagonist, Alex, to be known as Fred Verity. His working title was 'The Plank in Your Eye', a reference to the Sermon on the Mount.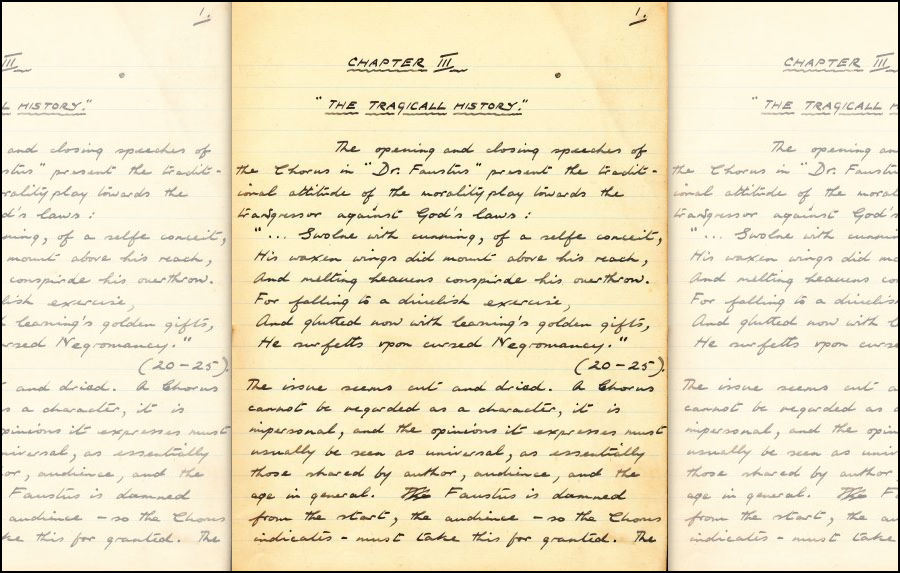 The earliest material in this collection is an incomplete third chapter of Burgess's undergraduate dissertation on Doctor Faustus by Christopher Marlowe. Burgess later recalled writing it as German bombers droned overhead on their way to Trafford Park. The completed essay was submitted in the summer of 1940.
The same notebook contains manuscript notes towards a lecture on 'Cultural Reconstruction', delivered by Burgess while he was working for the Royal Army Education Corps in Gibraltar between 1943 and 1946, and two fragments of an untitled story about life in the army. These two episodes form the earliest surviving notes towards the book which eventually became Burgess's first novel, A Vision of Battlements, completed in 1952.
The notebooks contain many further references to novels, both projected and completed, such as Honey for the Bears (also referred to as 'Two, Two, the Opposites!'), MF (known as 'The Incest Play', 'The Riddle Solver', and 'The Solver of Riddles') and The Wanting Seed (referred to as 'Fertility Novel', 'Let Copulation Thrive', and 'Hope Lies with the Children').
They also serve as a place for music scores by Burgess, limericks, cocktail recipes, personal accounts, 'to-do' lists, doodles, cartoons and calligraphic exercises in Arabic. Taken together, these books provide a wealth of new information about miscellaneous aspects of Burgess's personal and professional life, and his emergence as a writer and composer.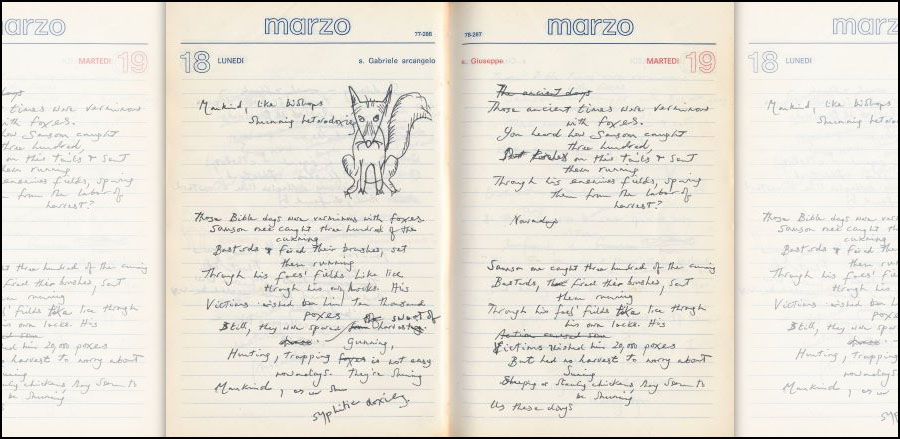 These notebooks have already provided important research material for the Irwell Edition of the Works of Anthony Burgess and other academic articles. They appear in the catalogue of manuscripts, which can be accessed at the Archives Hub. As the notebooks are fragile and in poor condition, consultation of this material is subject to the approval of the Foundation's archivist. Contact us for more information.