NEWS AND BLOG POSTS
New discovery: A Week of Planets by Anthony Burgess
Andrew Biswell

25th February 2021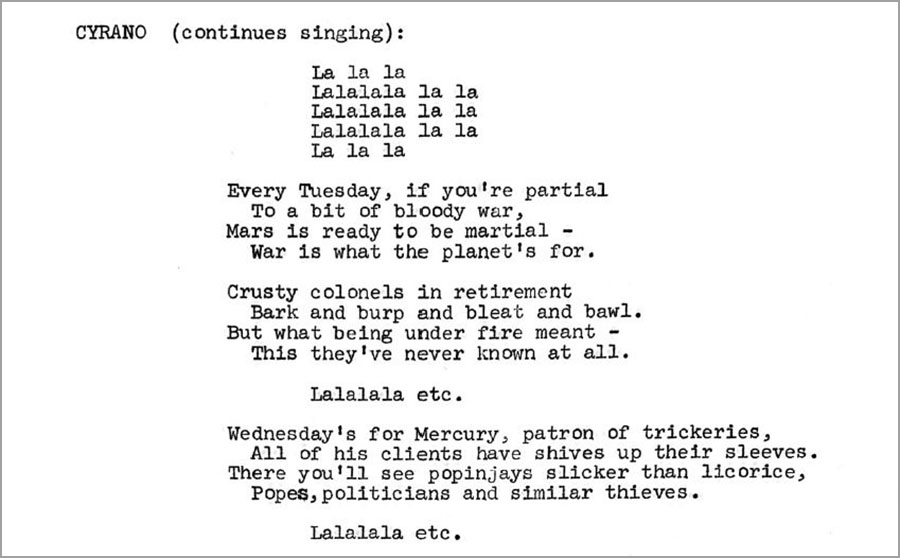 New research into the Foundation's archive of literary manuscripts has uncovered a number of previously unknown poems and songs by Anthony Burgess. To celebrate the 104th anniversary of Burgess's birth on 25 February 2021, and the US publication of Collected Poems on the same date, we are presenting one of the new poems here.
'A Week of Planets' is a comic song written by Burgess for the 1973 Broadway musical Cyrano but never used in the show. In the original cast album, Christopher Plummer sings a different song, 'The Thither Thother Thide of the Moon', replacing this earlier number. At the point in the play when the song would have been sung, Cyrano is creating a diversion, delaying the amorous villain De Guiche in the street while Roxane is secretly getting married to Christian.
Pretending to be an extra-terrestrial being who has fallen to earth from the moon, Cyrano — who is in disguise — sings a rambling, improvised song in which he claims to have toured the solar system in a single week, visiting a different planet on each day.
Burgess being Burgess, he cannot resist including a bawdy pun. In the verse about Venus, he plays with the link between Venus as the goddess of love and venereal disease. In the same stanza he mentions mercury, which was wrongly thought to be a cure for syphilis in the seventeenth century.
This new work gives us a strong example of Burgess as a songwriter, and it is a pleasure to publish it here for the first time. We hope it will lead readers to explore further delights in the 500-page volume of Burgess's Collected Poems.
---
A WEEK OF PLANETS
Monday's for a lunar visit,
Though the moon is cold and bare.
Hardly worthwhile going, is it?
Since there's not a damned thing there.
She's so old that few could love her —
Pockholes pitting every part —
Somehow she reminds me of a
Well-connected Paris tart.
Lalalala la
Lalalala la
Lalalala la la
Every Tuesday if you're partial
To a bit of bloody war,
Mars is ready to be martial —
War is what the planet's for.
Crusty colonels in retirement
Bark and burp and bleat and bawl.
But what being under fire meant —
This they've never known at all.
Lalalala etc.
Wednesday's for Mercury, patron of trickeries,
All of his clients have shives up their sleeves.
There you'll see popinjays slicker than licorice,
Popes, politicians and similar thieves.
Lalalala etc.
Thursday, Thursday, Thursday, Thursday —
Jupiter, of course.
Life on Jupiter's devoted
To carousing all the time.
Drinking bouts are state-promoted,
Thirst is an official crime.
It's a summer sport
For the better sort
Downing acqua
Vita by the quart.
Citizens who don't drink
Citizens who won't drink
Find their term of life
Cut rather short.
Friday is for Madame Venus.
She's a rather frowsty bitch.
She sends nothing to the cleaners.
That explains the dorsal itch.
Her establishment will cater
To the most bizarre demand —
And if you have trouble later,
Mercury is close at hand.
Lalalala etc.
Life on Saturn
Has a pattern
So decrepit
You can't step it
Up by one de-
gree — it's Sunday
Though it's Saturday.
It's no wonder:
No one's under
Ninety-five: they're
Half-alive: they're
Lustful though, though very slow
In their erotic play.
These filthy old men
Eat up bold men
In their prime
For youth's a crime —
A circumstance
That's found in France,
As you'll perchance
Agree.
Saturn is no place for me.
Lalalala etc.
Oh God, I've forgotten Sunday, — the sun —
There's everything there —
Hogs and frogs and burning rubber,
Viscounts, vipers, vice and rice,
Fine aristocratic blubber
Drawn in trucks by clockwork mice.
Bloated lips and bubs and beddings,
Bad champagne on boiling ice,
Funny funerals, gloomy weddings,
Weddings, weddings —
But of course it was Sunday,
So I rested.
Lalalala etc.
You can find out more about the poetry of Anthony Burgess by visiting our exhibition pages.
---