NEWS AND BLOG POSTS
The Burgess book collection goes online
Anna Edwards

25th January 2021
We're thrilled to announce that a catalogue to over two thirds of our book collection is now searchable for free on Jisc Library Hub Discover.
This is the first time that a catalogue to our library has been made available online and it marks a significant step forward in terms of increasing access to our collection and developing its research and engagement potential.
Regular readers of our blog will remember that in 2019 we reported that we had recently begun a major project which focussed on cataloguing and re-ordering our library of over 9000 books, ready for online publication.
A 55-page guide to the library of books at Burgess's home in Bracciano in Italy, dating from the 1970s, provided us with the opportunity to physically re-order books in a way which was influenced by the categories Burgess himself assigned. This has allowed us to offer all visitors to our Reading Room a more authentic experience of Burgess's library.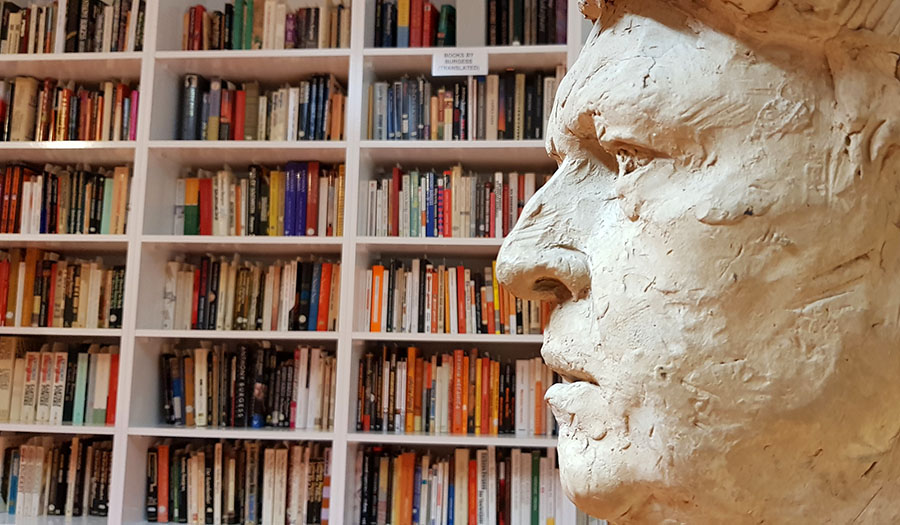 We carried out a full shelf-check as part of the cataloguing process. Alongside standard bibliographic information, we recorded details of inscriptions, annotations, enclosures, contributing authors and translators, and the existence and title of any associated reviews by Burgess.
We also dusted each book and carried out a basic condition-check, identifying volumes in need of a more in-depth conservation assessment, where necessary.
Researchers will be able to use the online catalogue to search for specific titles within our library, or to browse the collection more generally.
Books were acquired by Burgess and his family over a number of years and for a variety of reasons, and researchers will find a fascinating array of material. Some books date from the period of Burgess's school and university studies in Manchester in the 1920s and 1930s; some were sent to Burgess as gifts and document his wider interactions and friendships; some were acquired through Burgess's role as a literary critic and reviewer; and some served as key reference texts for novels and other projects that Burgess worked on.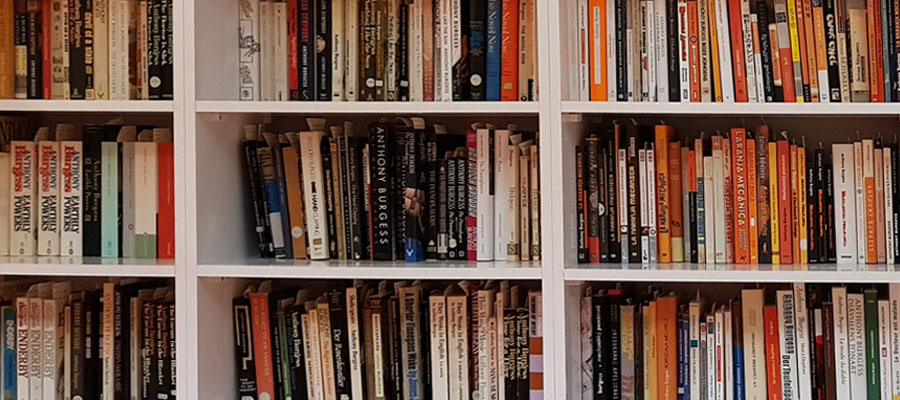 The content of the collection reflects the breadth of Burgess's interests. Topics include: language and linguistics; literary criticism; poetry; drama; social science; geography and travel; history; politics; biographies, autobiographies, collected letters and diaries; general fiction; art and architecture; TV and film; and music.
There are also novels and other literary works by Burgess (in English and in translation); copies of books and journals to which Burgess contributed; and a range of secondary works on Burgess's life and writing. The high number of works by James Joyce, William Shakespeare, DH Lawrence, and Vladimir Nabokov, among others, in the library reveal particularly favoured authors.
We continue to acquire new editions of works by Burgess and related critical materials and these too are discoverable within the online catalogue. Uninscribed foreign titles acquired by Burgess and his family – approximately 1300 items – have yet to be catalogued, however we are able to provide researchers with a general overview of this material with reference to a basic finding list.
Please don't hesitate to contact our Archivist if you have any questions about material within our library catalogue.