The Burgess Prize
The Observer/Anthony Burgess Prize for Arts Journalism
in this section
Shortlist: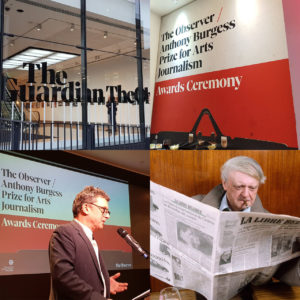 We are delighted to announce the shortlist for the Observer / Burgess Prize. Yet again, we received a record number of entries. On this page, we announce the eight talented entrants going through to the final in February.
Our judges this year were Sarah Donaldson, arts editor at The Observer, Will Carr, deputy director of the Burgess Foundation, and special guest judge – and former Prize winner – Shahidha Bari. Huge thanks for your excellent work.
Interestingly, our overview of Prize entries acts as a rather unscientific measure of the public zeitgeist. Last year, Ariana Grande was the most popular subject for reviewing. This year most reviewed subject? Fleabag (by far!) followed by Stormzy.
The shortlist:
Paul Bahrami for reviewing Mark Jenkin's Bait: "This is Luddism, Jenkin denying himself technology to tell the story of those left to the mercy of a changing economy."
Alastair Curtis for reviewing David Wojnarowicz at Reina Sofia: "Anger more often leaves you inarticulate, but words never fail Wojnarowicz. He is an elegant poet of rage."
Josiah Gogarty for reviewing Stormzy at Glastonbury: "The performance was a symbolic tool, designed to use one of the nation's biggest platforms to proclaim the power of Black British music and Black British people."
Lucy Holt for reviewing Waterloo Road: "The plotlines are preposterous and the script heavy-handed…. and I cannot stress this enough, a load of fun."
Stephen Hargadon for reviewing Twitter artist Cold War Steve: "The scenes are witty and weird – chaotic elegies – but there is no doubt who is being mocked: …the spouters and spaffers who rule the land."
Phoebe Walker for reviewing Ute and Werner Mahler at Fotomuseum Den Haag: "I think of the brief forays I make back to my own home town… the same empty shopfronts, gaping like missing teeth."
Jeremy Wikeley for A Very Expensive Poison at the Old Vic: "The play is powerful, witty, affecting and ingeniously produced. Prebble and director John Crowley have mimicked Putin's own taste for theatre."
Poppy Wood for The Mask of Orpheus at English National Opera: "The opera is three-dimensional in every sense of the word, playing with the richness of reality – It is a three-course meal, with pudding first"
The winners will be announced – and live-tweeted – at a ceremony on 19 February 2020.