Anthony Burgess
Anthony Burgess
These articles focus on particular aspects of Anthony Burgess's life and work, including his biography, novels, music, films, and religious beliefs.
in this section
Poet:

Poetry was an important aspect of Burgess's writing from the 1930s. He began his career as a poet, and his final novel was written in a verse-form which imitates the longer narrative poems of Lord Byron. His published poetry ranges from the lyric to the epic, from sonnet sequences to philosophical poems in heroic couplets. He wrote in most of the standard forms, including free verse.
Burgess's work as a song-writer and lyricist went hand in hand with his ambition to write poems in the modernist idiom of T.S. Eliot and Gerard Manley Hopkins. Other significant influences on his poetry included William Empson, W.H. Auden and W.B. Yeats.
Early works
Writing as John Burgess Wilson, he began to publish poems at the age of sixteen. His earliest work appeared in two school magazines, the Manchester Xaverian and the Electron. While studying English Literature and Language at Manchester University, he regularly contributed poems to a student magazine, the Serpent.
Visiting his wife in London in the early 1940s, Burgess met Dylan Thomas and the group of poets associated with the Fitzroy Tavern. Like many people of his generation, he wrote poems during the Second World War, and some of this early work was later included in the Enderby novels. After the war, Burgess claimed to have sent a book-length collection of his poems to T.S. Eliot, the poetry editor at Faber and Faber, who sent them back with a polite note of rejection.
The Eve of Saint Venus, a verse comedy in three acts, was written in Adderbury, Oxfordshire, in 1951. Originally intended as an opera libretto, this stage play includes a free translation of a Latin poem, the Pervigilium Veneris. Although there is no record of any performances, this play was the substantial literary work completed by Burgess, in the year before he wrote his first novel.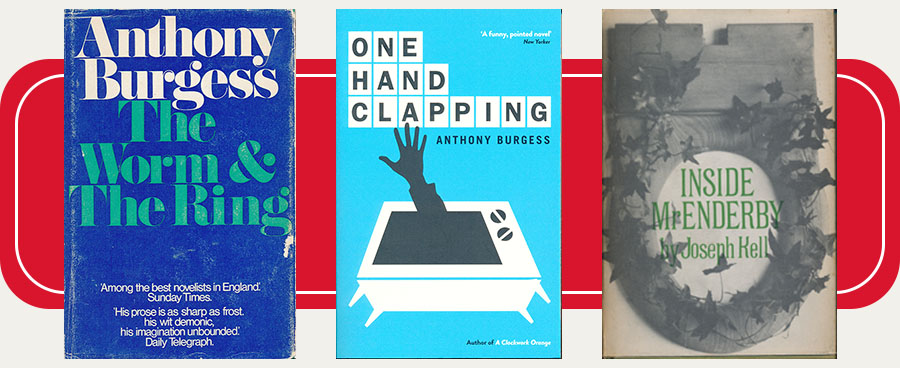 Poets in fiction
Poetry is an inescapable presence in much of Burgess's early fiction. In novels such as The Worm and the Ring and One Hand Clapping, he introduces poet characters whose work is quoted at length. Inside Mr Enderby (1963) places a poet at the centre of the action, and Burgess continued the adventures of F.X. Enderby in three subsequent volumes in the series, published between 1968 and 1984.
On 21 July 1969 Burgess was one of a handful of writers and artists who were commissioned by the New York Times to celebrate the first manned lunar landing. His poem about the Apollo 11 mission to the moon, titled 'Imagination Is Your True Apollo', was published alongside texts contributed by other artists and writers, such as Pablo Picasso and Vladimir Nabokov.
Writer in residence
In 1971 Burgess was appointed writer in residence at the Tyrone Guthrie Theater in Minneapolis. He wrote two verse plays for the director Michael Langham: a modern reworking of Oedipus the King and a translation of the French classic, Cyrano de Bergerac. The following year, Burgess collaborated with the composer Michael J. Lewis on an award-winning Broadway musical, titled Cyrano, which opened on 13 May 1973. The original cast album, featuring Burgess's lyrics, was released by A&M Records.
In December 1974 the New York Times commissioned Burgess to write a long political poem about the aftermath of the Nixon presidency, titled 'O Lord, O Ford, God Help Us, Also You'. This was published alongside an illustration by Ralph Steadman.
When Burgess was commissioned to script the television series Moses the Lawgiver, he prepared for the task by writing a long treatment in verse. The result was Moses: A Narrative, published in 1976, an epic poem in 18 sections which revisits the Book of Exodus in order to expand its dramatic and psychological potential. The complete text is reprinted in Burgess's Collected Poems.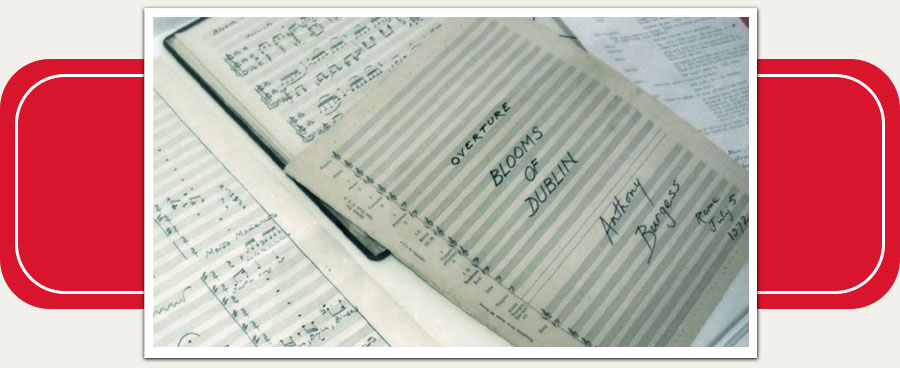 Blooms of Dublin
In the 1980s Burgess continued to produce new songs and translations in verse. Major works from this period include Blooms of Dublin, an operetta based on James Joyce's Ulysses, broadcast on British and Irish radio for the Joyce centenary in 1982. This was followed by a new libretto for Carl Maria von Weber's opera Oberon, premiered by Scottish Opera in Glasgow in 1985 and subsequently revived at La Fenice in Venice in 1987. For English National Opera he made a new rhyming translation of the libretto for Georges Bizet's Carmen, staged at the London Coliseum in 1986.
One of his important late poems is 'An Essay on Censorship', written in heroic couplets in the style of Alexander Pope's 'Essay on Man'. Burgess responds at length in this work to the Salman Rushdie affair of 1989, and the poem addresses the wider issues of blasphemy and obscenity.
Another notable work is his self-adaptation of A Clockwork Orange: A Play With Music, which adds new words to the vocabulary of Nadsat through a set of inventive song lyrics for Alex and the droogs. The play was produced in Bonn in 1988 and was revived by the Royal Shakespeare Company at the Barbican Theatre in 1990.
Towards the end of his life, Burgess worked on two ambitious poetic projects: a translation into rhyming couplets of Chatsky, Alexander Griboyedov's Russian stage comedy, and Byrne, a long verse narrative composed in Byronic and Spenserian stanzas. Byrne was completed in February 1993 and published posthumously in 1995. In its final chapter, the novel includes some of the poems that Burgess had written in the 1930s. He ended his writing career as he had begun it, with formal poetry which rhymes and scans.
Posthumous publications
Burgess's poetry has come more clearly into focus since his death in 1993. Kevin Jackson edited a generous selection of his poems titled Revolutionary Sonnets, published by Carcanet in 2002. This pioneering volume was followed in 2020 by the monumental Collected Poems, edited by Jonathan Mann, which includes more than 500 pages of material, including around a hundred previously unpublished poems. Mann's edition collects private poems addressed by Burgess to his two wives and son, occasional poems which appeared in newspapers and magazines, and other substantial works which were discovered in manuscript.
Reviewing the Collected Poems in the Times Literary Supplement on 23 April 2021, Simon Rennie wrote: 'Burgess is a successful poet because he is qualitatively consistent, productive and flexible. And his Collected Poems demonstrate to the reader that poetry, with its linguistic freedom and its inherent allusiveness, was always at the heart of his output.'