NEWS AND BLOG POSTS
Inside the archive: volunteering at the Burgess Foundation (part one)
Michelle Owen

8th February 2021
In 2020, the Burgess Foundation was on the point of launching a new archive volunteer programme. The closure of our building due to the pandemic meant that we had to suspend all on-site activities. We explored options for working remotely with volunteers and, by October, we were ready to begin a remote transcription project with our two archive volunteers, Michelle Owen and Vivian Pencz.
By giving their time and skills, the volunteers have made much-valued contributions to the Burgess Foundation's archive, helping us to make the collection more accessible to researchers and to safeguard it for future generations.
Here, in the first of two new blog posts for the Inside the Archive series, Michelle Owen shares her experience of the first phase of her project, working with Anthony Burgess's unpublished notebooks.
---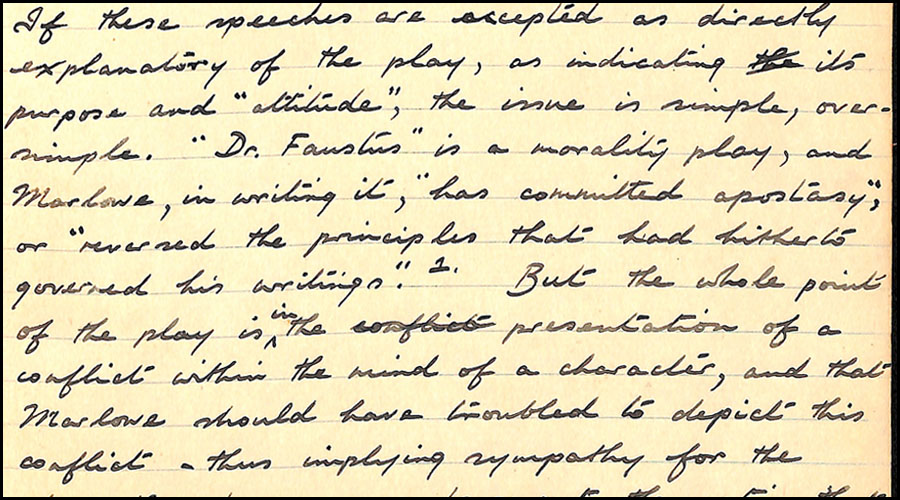 For the past four months, I have been volunteering for one day per week on a remote project with the International Anthony Burgess Foundation Archive to transcribe the notebooks belonging to Anthony Burgess.
The archive holds 14 notebooks containing information about Burgess's professional and personal life, helping us to build a better image of him. Each notebook uncovers different aspects of his life from the books he has written and the music he composed, to diary entries, doodles, his finances when living abroad and parts of his thesis, with the voice of his wife Lynne popping up occasionally. They provide an insight into the way Burgess worked and how he wrote down his thoughts.
What I love most is that you won't just find one aspect in a notebook and that he changes regularly between his different thoughts.
I was drawn to this project as I enjoy reading Burgess's books and it has been great learning more about him and his work. I also wanted to gain experience working in an archive to improve and gain new skills which could help me in my future career.
I like to ensure the accessibility and preservation of records and this project allows these important notebooks to be accessed in a new way such as researchers will now be able to search key terms making it easier to find the information relevant to them or they may be able to discover new information hidden in the notebooks that they may have missed previously. It also means that handling of the notebooks can be minimised, supporting their long term care by decreasing any risks that may come with frequent handling.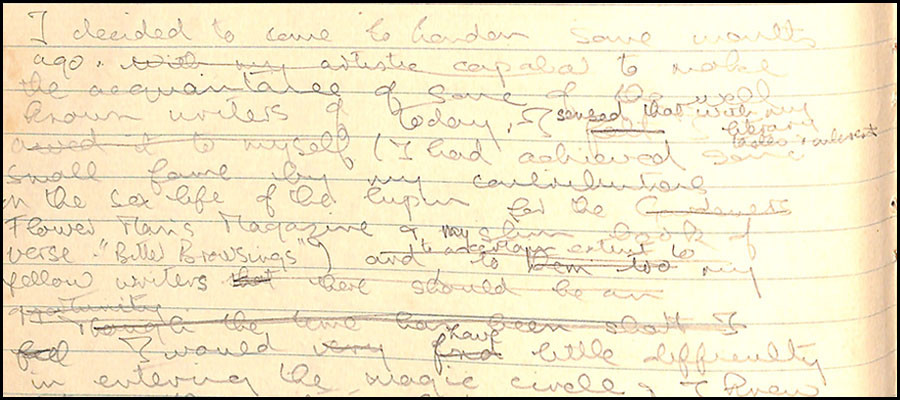 To introduce me to the project, I met with Anna the archivist over Zoom, alongside my fellow volunteer, Viv. We were familiarised with the project, which consisted of transcribing the individual pages of the notebooks as they appear, adding in notes at the end of the transcription to explain anything further about the text: for example, to give context or biographies of people mentioned.  We were given plenty of training over Zoom which involved going through example transcriptions together and guidelines to follow.
The notebook I worked on is really interesting; it primarily contained part of a chapter of Burgess's undergraduate dissertation about Christopher Marlowe's Doctor Faustus for his BA degree in English at the University of Manchester as well as
Calligraphic exercises in Jawi, the Arabic form of Malay;
Calculations in Straits dollars;
Notes towards a lecture on "Cultural Reconstruction" delivered by Burgess while working in the Royal Army Education Corps in Gibraltar;
Two brief sections of an untitled story about life in the army.
I didn't really know what to expect before beginning the transcription but was excited to access the material and get an insight into Burgess's mind. I thought more of the notebook would be dedicated to his undergraduate dissertation but this was broken up with calligraphic exercises and financial calculations, as if he knew that I would be transcribing it later and so trying to vary his notes to keep me on my toes.
My favourite part was towards the end of the notebook where each page is different: some are related to untitled stories, which are unfinished and end on cliff-hangers. These are really exciting, but I would like to know what happens next and hear more of the story.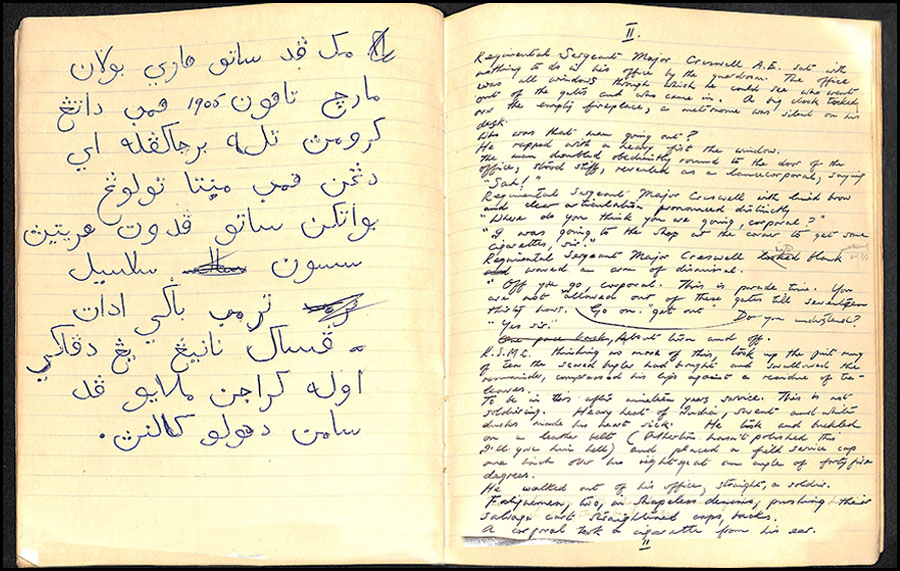 It is also interesting how Burgess sets out his notebook: he writes at both ends of the book turning the back of the book upside down to begin writing. This (as you can probably tell) is something I found quite challenging to convey in the notes of the transcription, to explain how the notebook had been laid out. Certain pages were more challenging than others, especially where there had been lots of editing that needed to be conveyed in the transcription, or where some words were trickier to read than others.
This experience has provided me with new archival skills and given me the opportunity to work with digitised material and improve my transcription skills as well as learning more about the interesting life that Anthony Burgess led. It has been great to be able to participate in the project despite the pandemic and lockdowns.
I have enjoyed working on this project with the varied material. It was easy to get started as I am able to work flexibly in my own time. Anna has been supportive throughout the project and it feels really satisfying that I have finished the first draft of my first notebook. I am very much looking forward to the next stage.
---