NEWS AND BLOG POSTS
A class act: Anthony Burgess at City College New York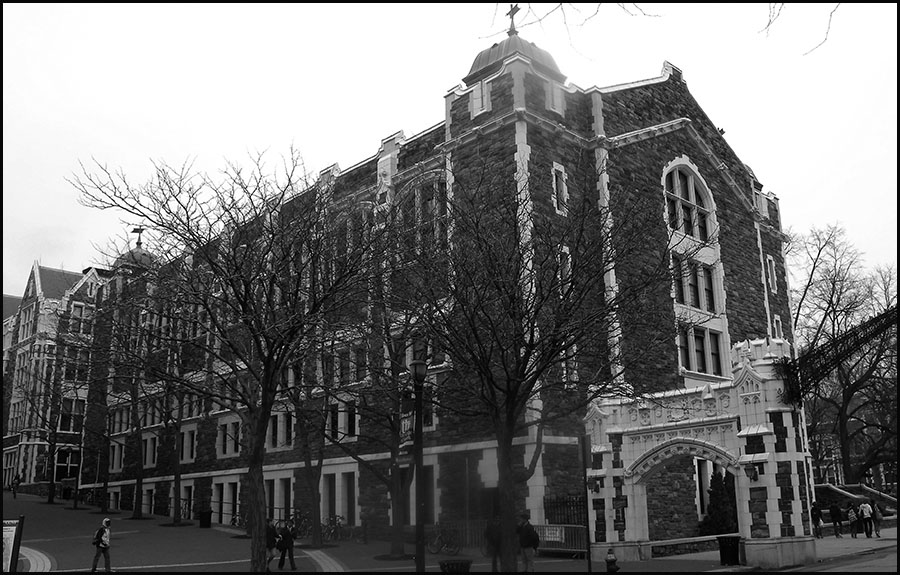 When Anthony Burgess joined City College New York in 1972 for a year as a Distinguished Visiting Professor of English Literature and Creative Writing, it is not clear that he knew what he was letting himself in for.
Burgess had previously taught at a number of elite American universities, including the University of North Carolina at Chapel Hill, Princeton and Columbia. His memories of his own studies at the University of Manchester in the 1930s and his experiences as a schoolteacher in Oxfordshire and Malaya may not have wholly prepared him for the challenges of teaching at one of the most dynamic and inclusive colleges in North America at that time.
The mission of CCNY from its founding in 1849 was to provide children of immigrants and the poorest in society with access to higher education, based on academic merit alone. In the early 1970s the college did not require any prior qualifications from students beyond a high-school diploma, and the cohort was mostly drawn from deprived urban neighbourhoods.
New York at that time was itself a dangerous and intimidating city. Burgess described his first impressions in an article for the New York Times: 'The shops are ready for demolition but crammed with goods. A lot of people mutter to themselves, but I have heard that that is a means of discouraging muggers. I have not yet been mugged, but the time has to be coming.' Burgess and his wife Liana lived in a cockroach-infested flat at 670 West End Avenue, sub-let to them by the writer Adrienne Rich.
Burgess was asked to teach a course on the twentieth-century novel, and he began, not unexpectedly, with James Joyce's Ulysses. A journalist, John L. Hess, wrote an account of the first lecture for the New York Times:
Mr Burgess wore a saffron shirt open above light blue slacks, his wavy dark hair falling limp in the steaming heat. Reminded by a visitor that he had taught for many years in Malaya in a similar climate, he retorted with a Brendan Behan scowl: 'I never got used to it.'

'Joyce is an auditory writer,' he explained. 'Most modern bestsellers write for the eye. A writer like Arthur Hailey, of Airport or Hotel, you find you do a lot of skipping … You might get together and read Joyce aloud, in small groups — or alone, in the lavatory.'

Mr Burgess plunged into the reading like an actor, reading the lines with Irish passion, interrupting with cool English footnotes and warm commentaries.
Bruce Parks, a student at CCNY at the time, remembers the Joyce course and Burgess's creative writing group in more detail, recalling Burgess's 'one-man show' method of literary reading.
The Burgess Foundation has a collection of archive recordings from the second course Burgess delivered at CCNY, 'Shakespeare: the Man and his World'. This set of seventeen lectures from early 1973 offered students an ambitious exploration of Shakespeare's work and the context in which it was written, looking at Elizabethan London, theatre, society, language and culture.
Burgess was often disappointed by his students' lack of prior knowledge. They had little grounding in renaissance literature and English history, perhaps unsurprisingly, and Burgess often doubted that they took everything in. Yet, undeterred, his enthusiasm for teaching is sustained, and his regard for his students comes across throughout.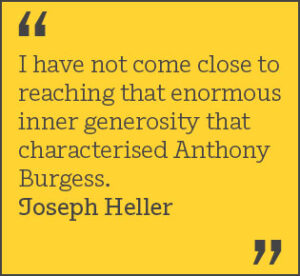 Joseph Heller, who was also teaching at CCNY in 1972-73, remembered Burgess extremely positively: 'I admired the way Burgess could take even the most hostile of these students seriously. He knew and remembered their names. He gave serious thought to even their most absurd statements. He wanted to know their backgrounds […] In all my life, even at its most compassionate moments, I have not come close to reaching that enormous inner generosity that characterised Anthony Burgess.'
The Shakespeare course did not require students to write essays, but Burgess set out a number of possible assignments in the ninth of his lectures, including rendering ten lines of a speech by Richard Nixon into Elizabethan blank verse, or writing one page comparing Joan of Arc in Bernard Shaw's play Saint Joan with Shakespeare's Joan of Arc in Henry VI, Part 1.
Three weeks later, Burgess had gone over these assignments and noticed significant gaps in knowledge. The Nixon task seems to have shown uncertainty about what blank verse actually is, and he noticed that there had been a misunderstanding of aspects of Elizabethan grammar, including the distinction between 'thou' and 'you'. Here is Burgess explaining the latter point, pacing about the lecture room and scribbling on the blackboard with characteristic energy and determination.
Visit our Shakespeare exhibition pages to discover more about Burgess's Shakespeare lectures, and about how Shakespeare informed Burgess's own writing and music.
---