NEWS AND BLOG POSTS
Anthony Burgess and the Theatre: Cyranosing
Andrew Biswell

6th December 2022

This essay was written in 1983, when Burgess's verse translation of Cyrano de Bergerac was performed by the Royal Shakespeare Company at the Barbican Theatre in London, with Derek Jacobi in the leading role. The production was a great success: Michael Billington, the long-standing theatre critic of the Guardian, wrote about the 'bold, emotionally unashamed' quality of Burgess's translation, and declared that 'Jacobi has done nothing finer than this.'
The article below, which is previously unpublished, was discovered in a file of uncatalogued papers at the Burgess Foundation. Burgess writes in detail about his admiration for Edmond Rostand's classic French play, claiming that the Man in the Moon scene is a piece of classic science fiction. He also reveals the extent of his self-identification with the character of Cyrano: a man who, in the modern world, would confront customs officials and tax inspectors and 'overwhelm them with devastating but elegant insults.'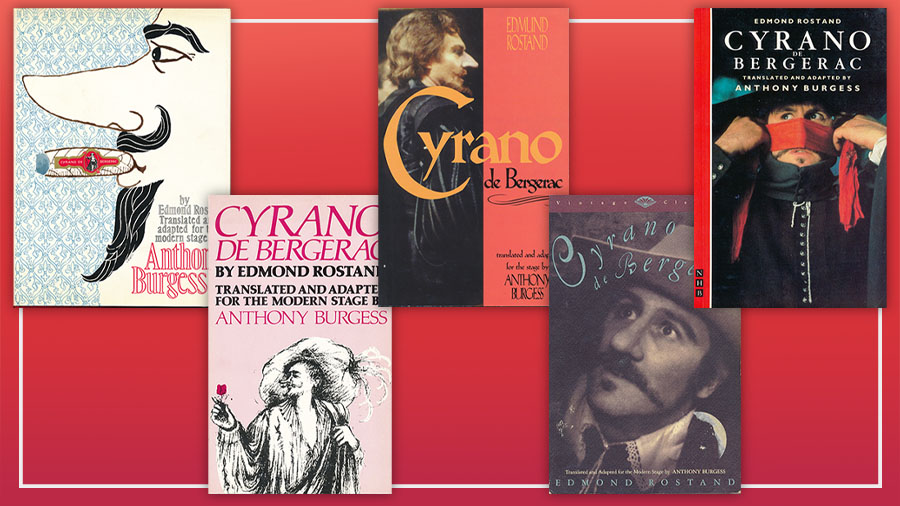 When I say, as I say now, that I am a professional writer I use the term in no self-aggrandising sense. I merely mean that, having joined the unemployed twenty-five years ago, the only thing I know how to do for a living is to write. I will write anything I am asked to write — except hard pornography and political propaganda — and I have accepted some weird commissions in my time.
This year has seen some of the weirdest. It began with ten hours of television script based on a conflation of Suetonius's Lives of the Caesars and the Acts of the Apostles (this is now being filmed in Tunisia, with Ben Kingsley as Seneca, Burt Lancaster as Tiberius, and James Mason as Claudius). Then followed five hours for French television on Attila the Hun. Then a new libretto for Weber's Oberon. Then a film script for Charlotte Rampling about a blind woman who hears a murder being committed. Mixed in with these was a translation of Cyrano de Bergerac for the Royal Shakespeare Company. A verse translation, naturally. And in rhyme.
I am not a poet. But I am a fairly competent versifier, as any professional writer ought to be. There was not one Grub Street man living in the age of Samuel Johnson who could not turn his hand to heroic couplets when commissioned to. Nowadays there is too much of a division between the poet and the proseman. They say that the age needs poetry, even if nobody reads it, but I have heard nobody say that the age needs verse. Poetry represents an imaginative impulse that doesn't necessarily call for skill in handling the sonnet or terza rima. Few poets, I think, could manage a translation of Cyrano into regular rhymed verse. I can precisely because I am not a poet: the great impulse is less important in such work than a cool hand at coping with verse technique.
Cyrano de Bergerac is best known on the Anglo-American stage in the blank verse version of Brian Hooker. The original is in rhyming Alexandrines, which impart a very French spiritual quality, as well as a certain rigid lyricism, to the story of the man with the large soul and the ugly nose. Blank verse is too romantic and it sounds formless. Rhyme was needed, but the English stage does not take kindly to rhyme. It sounds like the fairy queen in a pantomime or one of the plays of the medieval guild cycles which we attend in indulgent duty, pitying the crudity of our ancestors. But Cyrano has to speak rhyme, especially when cataloguing the various fanciful approaches which his nose invites:
Naive: How much to view the monument?
Speculative: Tell me, what's the rent
For each, or both, of those unfurnished flats?
Rustic: No, Elmer, that's no nose. Why that's
A giant turnip or a midget marrow.
I'll dig it up, you look for the wheelbarrow …
Being large-nosed myself, I discovered a certain sympathy for Cyrano. And, digging into Rostand's text, I began to realise that here was that rare thing in literature — a character bigger than the work which contains him. Though he is as grotesque and as improbable as, say, Falstaff, yet there is plausible psychology in his courage, fighting skills, lyrical creativity and space-travel speculations, for if a man has a nose as ugly as Cyrano's he has to excel in everything, especially fighting. What finally appealed to me about him was a quality we all need and don't have: not giving a damn about anything except honour. Cyrano would stand no nonsense from insolent customs officials or importunate tax inspectors. He would overwhelm them with devastating but elegant insults and, for good measure, flash his sword at them. But, of course, nowadays he wouldn't be allowed to carry a sword. He remains an unrealisable realiser of our most truculent dreams.
He has historical substance. He existed in the seventeenth century, when, as Dumas reminds us, Gascons came up to Paris to seek their fortune in the Guards. He was a poet and dramatist, and Molière stole one of his best lines — 'Que diable allait-il faire dans cette galère?' He wrote the first science fiction and a number of Swiftian satires that earned him enemies among the great and, finally, an ignominious assassination. There is a contemporary portrait of him which shows his nose to be large and ugly. This made him fearful of the laughter of women. His tragedy, which the play is all about, is that he falls desperately for his beautiful cousin Roxane. As he puts it,
… This nose precedes me everywhere,
A quarter of an hour in front, to say 'Beware,
Don't love Cyrano' to even the ugliest.
And now Cyrano has to love the best,
The brightest, bravest, wittiest, the most
Beautiful …
And so follows that strange masochistic masturbatory situation — the invention of Rostand — in which the handsome young man who loves Roxane is given the words to woo her with by the great-nosed great-souled poet who doesn't stand a chance.
Cyrano is one of the great stage rôles — like Hamlet or Peer Gynt. The magic of Rostand's heroic comedy is all his. For the rest, we have a very well-made artefact in the French tradition, in which Cyrano is rarely offstage. In the brief moments when he is absent it is he who is talked about. When he dies there is hardly a dry eye in the house. Let's be honest — there's a tendency to the sentimental which a tougher dramatist (Ibsen, say, or Shakespeare) would have avoided like the plague. But Rostand's play works well, and it is stiffened by a certain philosophy. The great word is panache, which primarily means a white plume on a hat but figuratively stands for a quality of soul which Rostand tried to define when elected to the French Academy in 1901. Panache, he said, was a kind of grace of excess which hid a great though somewhat self-serving moral strength. Perhaps Hemingway was getting near to it when he spoke of the gift of 'grace under pressure,' but Hemingway meant something more stoical, dour, less theatrical. 'C'est une grâce,' said Rostand, 'que je nous souhaite.' A grace he wishes we had. But we care too much about money and security. For real panache you have to be poor, single, a poet who possesses only talent and a sword. And, for preference, a large and ugly nose.
Burgess's translation of Cyrano de Bergerac is published by Nick Hern Books and available from Blackwell's here.