NEWS AND BLOG POSTS
Inside the archive: Anthony Burgess's musical instruments
Anna Edwards

18th May 2020
You may have seen his piano, but Anthony Burgess owned many more instruments. This trip into the Burgess archive's musical instrument collection reveals all.

Regular visitors to the International Anthony Burgess Foundation in Manchester will be familiar with three of the more substantial pieces in our musical instrument collection, which are on permanent display: a Bösendorfer baby grand piano, purchased by Burgess in 1991; an upright piano, made by Steinway; and a William Foster harpsichord, which appears in Earthly Powers (1980).
These pieces are only a fraction of a larger collection that extends to over 50 items and includes harmonicas, oboes, recorders, flutes, guitars, dvojnices, pennywhistles, a clavichord, and maraca. All of our musical instruments have been photographed and are searchable on MINIM, a national database of historic musical instruments, created by the Royal College of Music in partnership with the Royal Academy of Music, the Horniman Museum and the University of Edinburgh.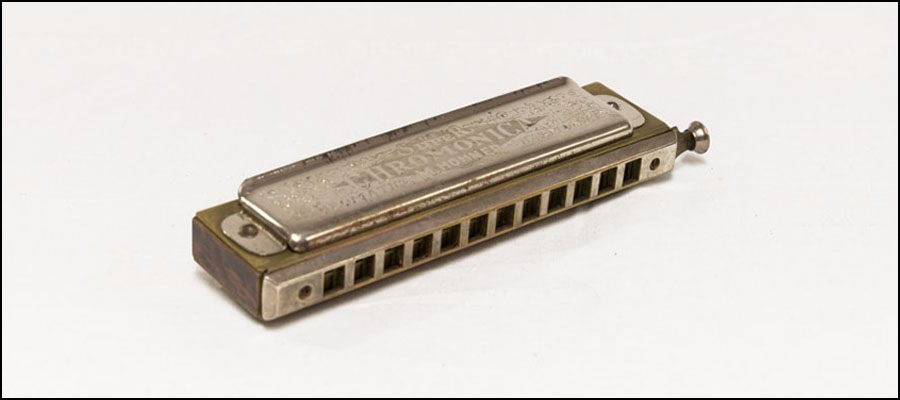 The instruments range from one-off novelty pieces, such as the penny whistle, maraca, or shaker, to those that Burgess and his son, Andrew Burgess Wilson, regularly played and composed for.
In a compositional career that spanned over 60 years, Burgess wrote solo pieces for piano, oboe, cor anglais and guitar along with pieces for chamber ensemble, and full orchestra. Although less prolific than his father, Andrew also composed for multiple instruments and remained a keen oboe and recorder player. Many of their compositions survive within our archive of music scores, searchable on the Archives Hub, and the musical instrument collection speaks strongly to this archive.
The opportunity to hear music on the instrument on which it was composed offers new ways of engaging and interpreting particular pieces and lends an added authenticity to performances. Burgess's own use of several instruments, such as his Casiotone keyboard, is documented in home recordings in our audio collection, as the following clip reveals:
---
---
Little is known about Burgess's acquisition of much of the musical instrument collection, e.g. when, where, and at what cost particular items were purchased, but important discoveries may yet be made among surviving financial papers and correspondence held elsewhere in our archive.
There are notable exceptions to this, such as the Bösendorfer piano, for which a home-video records Burgess choosing the instrument in Harrods, and an eighteenth-century English guitar that was bought at Sotheby's in 1987.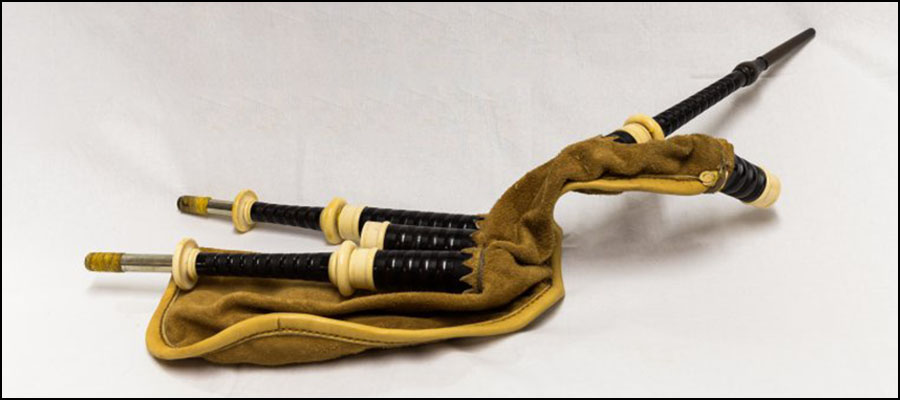 Some of the instruments point to wider interests and affinities.
The bagpipes, for example, were likely acquired by, or for, Andrew Burgess Wilson, who became interested in any Scottish and Irish heritage he might have. Andrew studied the traditional music and instruments of Scotland from a young age, and Burgess celebrated his son's love of Scottish music, complete with a birthday fanfare, poem and a drawing of bagpipes in a hand-drawn 15th birthday card (below). Andrew's interest in Scotland is documented further through folk music within our vinyl collection and books relating to Scottish music, history and folklore in our library.
Other instruments point to particular friendships. Burgess gave his Hohner "Super Chromonica" chromatic harmonica to his friend and neighbour, Barbara Beck, in 1951 along with a music score that he composed for her. Her husband, John, recently donated both the score and the instrument to the Burgess Foundation. An extract from the score, a setting of Shakespeare's sonnet 116, can be viewed as part of our latest online exhibition, The Music of Anthony Burgess.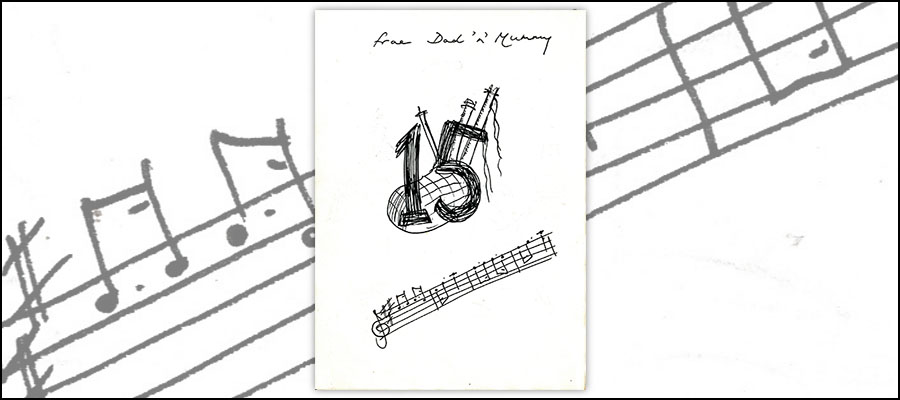 ---